Search Results
Displaying 1 - 10 of 13
Jewish tradition recognizes that fasting is not a safe practice for all Jews. For this reason, children under the age of 13 and individuals who are pregnant or ill are not required to fast in Yom Kippur. For those who fall into this category, the Jewish Board of Family and Children's Services provides a special meditation to recite instead, written by Rabbi Simkha Y. Weintraub.
There are people with hearts of stone; there are stones with human hearts.

-The Wall, by Yossi Gamzu
Holding My Father's Prayer Book
Image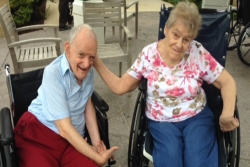 Guila remembers holding the prayer book for her father, who had cerebral palsy, every Yom Kippur. "What many might imagine to have been a dreary religious obligation was, for me, a highly emotional, touching experience."
Thirty years ago, Rabbi Motti Rotem, the first sabra (Israeli-born Jew) to be ordained as a Reform rabbi in Israel, addressed his congregation from the pulpit before Yom Kippur.
Although we may not think of Judaism as a religion of confession, we often are called to profess our sins – privately, between oneself and God.
As a young girl, I was very compliant. If I was told to do something, I generally did it; if I was told not to do something, I usually didn't. Of course, there were exceptions – ah, the motorcycle ride – but I think of myself as a rule follower.
The number of months, with God, is 12 in the Book of God, the day that He created the heavens and the earth… The month postponed is an increase of unbelief whereby the unbelievers go astray; one year they make it profane, and hallow it another…

-Quran 9:36-37
There are
35,000 walruses stranded right now
on the beaches of northwest Alaska. Walruses, which rely on sea ice to rest periodically, are having a harder and harder time finding it in the Bering Sea due to ice sheets melting from rising global temperatures. Scientists, including those at the
Walrus Research Center in Anchorage Alaska
, have serious concerns over whether walruses will be able to adapt to shrinking sea ice levels. They may very well become one of the wide array of species that we can expect to go extinct as climate disruption ravages our planet.
Thriving Reform Jewish congregations in Israel can help Israelis meet modern life and all its challenges in today's Promised Land.