Search Results
Displaying 1 - 10 of 11
Now that my daughter is in preschool, I've come to realize that hearing about cultural and religious practices directly from the practitioners only emphasizes our otherness.
I grew up loving this holiday – until I learned the dark side and felt like a kid discovering that there's no Santa Claus. It turns out Hanukkah is, in part, a tale of Jew vs. Jew.
In Jerusalem, Hanukkah is all about food. The famous Israeli jelly donuts appear in shops about a month before the holiday screaming, "Buy me! Eat me! Savor me!"
Hanukkah offers echoes from our tradition to be "a light among the nations," suggesting that we, like the holiday's candles, can bring warmth and vision to the world.
We always lit two menorahs at Hanukkah: One used candles; the other was electric, with bright orange bulbs. That second one became a precious symbol of life and light.
Although Jews have had access to the Western Wall since 1967, only some Jews feel ownership over this important site. 
According to Rashi, we light Hanukkah candles to "publicize the miracle." What exactly is the miracle we're publicizing – and what's the best way for us to do so today?
This year, the heated argument between the disciples of Hillel and the followers of Shammai over how to light the Hanukkah menorah speaks to me.
This meditation for Hanukkah focuses on bringing the light we carry inside ourselves into the world and lighting the lamps of awe and wonder in our children.
Got a Light?
Image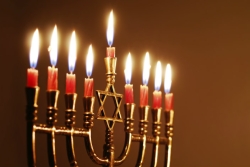 This light's for Hanukkah, for a people who who choose to begin our best of days with light...