Search Results
Displaying 1 - 10 of 13
During the year I spent studying in Jerusalem as a rabbinic student, it was impossible to escape the upcoming High Holy Days.
More Than Words on a Page: Social Justice in our Prayer Books
Image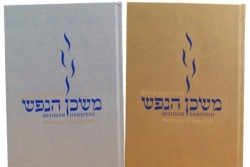 When I left for college my freshman year, I was nervous about exploring a new Jewish community. However, I immediately felt at home as I walked into my university's Hillel's Conservative Friday night services and saw the Siddur Sim Shalom, the prayer book I had grown up with.
In the game "Truth-or-Dare," I choose "truth" nearly every time. I'm not much of a dare-taker. Thus, if you and I were playing "Special Edition Truth-or-Dare: High Holy Days," I would confess that the prayer Avinu Malkeinu provides me with both my second-favorite liturgical moment and my second-greatest pet peeve of the year's liturgy. (Note: Even though I may have to repent for it, I will leave you in suspense about my favorite liturgical moment and my greatest liturgical pet peeve. Also, "Special Edition Truth-or-Dare: High Holy Days" is fictional, although I hereby declare copyright in the event Mattel or Hasbro comes knocking at my door.)
Late in the evening of September 28, 2009, following very introspective and rewarding Yom Kippur services at Congregation Ohabai Shalom in Nashville, I took a hot shower and then stood, wrapped in a towel, in front of the bathroom mirror. As I brushed my teeth, I reflected on my experience of this most prayerful of days, when Jews throughout the world come to grips with their mistakes and seek atonement.
It is very hard to say you are sorry – and even harder to really mean it. It is not any easier to truly forgive.
The melody that stirs the heart of Ashkenazic Jews is of unknown origin, but is part of a body of music known as "MiSinai melodies" that emerged in Germany between the 11th and 15th centuries.
Acharei Mot, the first of this week's two parashiyot, begins on an unsettling note—a reminder of the death of Aaron's sons and the suggestion that such tragedies might occur again unless the priests take specified steps to prevent them
In this week's double parashah, Acharei Mot/K'doshim, there's a one-sentence reference to the mortal sin of Aaron's sons, Nadab and Abihu, who brought "alien fire" into the Mishkan, which we read about in Parashat Sh'mini two weeks ago (see Leviticus 10:1-7).
As the great flood story begins, we learn that Noah was "a righteous man; in his generation he was above reproach" (Genesis 6:9) and we wonder what kind of compliment has Noah just been paid.
Every year at the time that we celebrate Passover, Jews read this week's Torah portion, Acharei Mot. What is the connection between Acharei Mot and the Passover ritual that coincides with the reading of this portion?