Search Results
Displaying 1 - 10 of 12
In Pirkei Avot, the rabbis wrote, "Mitzvah goreret mitzvah, averah goreret averah," one mitzvah (commandment/good deed) leads to another mitzvah, and one transgression leads to another transgression.
More Than Words on a Page: Social Justice in our Prayer Books
Image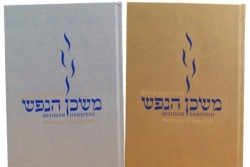 When I left for college my freshman year, I was nervous about exploring a new Jewish community. However, I immediately felt at home as I walked into my university's Hillel's Conservative Friday night services and saw the Siddur Sim Shalom, the prayer book I had grown up with.
The Death in Custody Reporting Act of 2013 (H.R. 1447) is crucial legislation that will provide much-needed transparency in the criminal justice system. The law would require and facilitate the collection of information regarding the deaths of prisoners in custody, alleviating the environment of suspicion, concern and mistrust that exists today in many racial and ethnic minority communities from coast to coast. In December, 2013, the U.S. House of Representatives unanimously passed the Death in Custody Reporting Act.  The Senate must now introduce and pass a companion to H.R. 1447 before adjourning for the year so that the President can sign it into law.
Urge your Senators to introduce and pass this important legislation. Take action now!
In the game "Truth-or-Dare," I choose "truth" nearly every time. I'm not much of a dare-taker. Thus, if you and I were playing "Special Edition Truth-or-Dare: High Holy Days," I would confess that the prayer Avinu Malkeinu provides me with both my second-favorite liturgical moment and my second-greatest pet peeve of the year's liturgy. (Note: Even though I may have to repent for it, I will leave you in suspense about my favorite liturgical moment and my greatest liturgical pet peeve. Also, "Special Edition Truth-or-Dare: High Holy Days" is fictional, although I hereby declare copyright in the event Mattel or Hasbro comes knocking at my door.)
Acharei Mot, the first of this week's two parashiyot, begins on an unsettling note—a reminder of the death of Aaron's sons and the suggestion that such tragedies might occur again unless the priests take specified steps to prevent them
In this week's double parashah, Acharei Mot/K'doshim, there's a one-sentence reference to the mortal sin of Aaron's sons, Nadab and Abihu, who brought "alien fire" into the Mishkan, which we read about in Parashat Sh'mini two weeks ago (see Leviticus 10:1-7).
As the great flood story begins, we learn that Noah was "a righteous man; in his generation he was above reproach" (Genesis 6:9) and we wonder what kind of compliment has Noah just been paid.
Every year at the time that we celebrate Passover, Jews read this week's Torah portion, Acharei Mot. What is the connection between Acharei Mot and the Passover ritual that coincides with the reading of this portion?
In Leviticus 18:3, in Acharei Mot, it is written, "You shall not copy the practices of the land of Egypt where you dwelt, or of the land of Canaan to which I am taking you."