Search Results
Displaying 1 - 10 of 15
As part of the URJ Reflection Project, a new set of offerings and experiences for the High Holidays in a time of social distance, we've also developed three short essays that allow you to go deeper into the essence of Jewish wisdom that grounds these rituals. 
As the High Holidays approach once again, we have created a number of resources for individuals and congregations to utilize as we mark these most important days in the Jewish calendar. We know we will be a stronger, more vibrant Jewish community when we fully incorporate the diversity that is the reality of modern Jewish life. We hope that each of these materials will help your High Holiday experiences and programming serve a wide range of identities and help you create communities of belonging.
Every year I look forward to this time as a reset button, and a chance to truly evaluate who I am and who I am becoming. I also know, from my time as a congregational rabbi, that for those of us working in the Jewish world, Elul takes on its own strange character.
This Elul, what comes to mind as I think about my own growth and what empowers me towards religious action is the work of Northeastern University's Community Fridge.
Blaming God for such tragedies is theologically problematic; blaming God for failed human policies is blasphemous. This idea is worth considering as we cope with the devastating aftermath of the multiple disasters confronting us. 
More Than Words on a Page: Social Justice in our Prayer Books
Image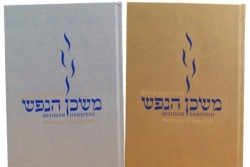 When I left for college my freshman year, I was nervous about exploring a new Jewish community. However, I immediately felt at home as I walked into my university's Hillel's Conservative Friday night services and saw the Siddur Sim Shalom, the prayer book I had grown up with.
In the game "Truth-or-Dare," I choose "truth" nearly every time. I'm not much of a dare-taker. Thus, if you and I were playing "Special Edition Truth-or-Dare: High Holy Days," I would confess that the prayer Avinu Malkeinu provides me with both my second-favorite liturgical moment and my second-greatest pet peeve of the year's liturgy. (Note: Even though I may have to repent for it, I will leave you in suspense about my favorite liturgical moment and my greatest liturgical pet peeve. Also, "Special Edition Truth-or-Dare: High Holy Days" is fictional, although I hereby declare copyright in the event Mattel or Hasbro comes knocking at my door.)
Acharei Mot, the first of this week's two parashiyot, begins on an unsettling note—a reminder of the death of Aaron's sons and the suggestion that such tragedies might occur again unless the priests take specified steps to prevent them
In this week's double parashah, Acharei Mot/K'doshim, there's a one-sentence reference to the mortal sin of Aaron's sons, Nadab and Abihu, who brought "alien fire" into the Mishkan, which we read about in Parashat Sh'mini two weeks ago (see Leviticus 10:1-7).