Search Results
Displaying 1 - 8 of 8
Three encounters from a day with 50 students from HUC, spending their first year in Israel before beginning their studies at the stateside campuses.
Years ago, on a cold and sparkly winter afternoon, I sat with my younger sister in the living room, both of us savoring the long, dark pods of chewy bokser we had saved from our Tu BiShvat celebration at Religious Scho
Tu BiSh'vat, also known as Chamishah Asar BiSh'vat (the fifteenth day of the month of Sh'vat) is commonly known as the New Year for trees and falls this year on February 3. Historically, it was the date on which trees in Israel were determined to be mature enough for their fruit to be harvested. Tu BiSh'vat was the date designated because by then, the early winter rains had largely subsided and the period of "budding" was just commencing, making the holiday a celebration of renewal.
Welcome to the Jewish month of Shevat and (if you're on the East Coast) to Storm Juno. While you're inside waiting out the snow, take this time as an opportunity to take the Green Sh'vat Challenge and make your life a little greener. Unfortunately, massive snowstorms don't counteract the fact that climate change is real, human-caused and happening quickly. The Green Shevat Challenge is one small, easy way to reduce our carbon footprint by making small changes to our daily routines.
The Apple Tree's Discovery
Image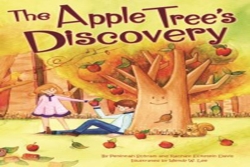 A litle apple tree is jealous of the big tall oak, until one day it discovers something surprising. This Tu BiShvat story teaches that everyone has qualities that make them special in a unique way, and is a lesson about patience and the passing of time.
The relationship between the environment and the health of living organisms is inseparable.
Natural resources are defined as: "naturally occurring substances that are considered valuable in their relatively unmodified (natural) form" (Wikipedia).