Search Results
Displaying 1 - 10 of 15
Looking for a good book to give your favorite bibliophile this Hanukkah? Staff of the Union for Reform Judaism recommend a few of their favorites, whether classics or new, that would make for great gifts. What would you add to the list?
When German Jews arrived in the United States in the middle of the 19th century, they devoted scant time to Hanukkah and directed more attention to Christmas.
It's that time of the year again – time for Hanukkah parody videos! We've gathered a few of the best new debuts from across the web. Leave us a comment and let us know: What's your favorite?
Whether or not there will be another shooting just a few days from now is not even up for debate. Call it pessimism, cynicism, or fatalism, but the undeniable truth of the situation is not a question of "if" but of "when."
What could be a more fitting commemoration of Hanukkah than promoting dialogue about the value of respecting the boundary between religious practice and public life?
Our unique priority as the Reform Movement is to practice and lead audacious hospitality. To do this work with impact we need to remember our youth are often our teachers. 
With your generosity, the URJ can continue to reimagine Jewish life for our growing community. Will you join us in this moment of possibility and help us swing the gates wide open?
There are many creative ways to include all members of an interfaith family and those connected to them.
It's the fourth day of Hanukkah and already my hanukkiyah is covered in wax. It drips down the arms and covers the base and gets stuck where the candles are supposed to be placed.
The White House Hosts Its Annual Hanukkah Party with a Big Reform Presence
Image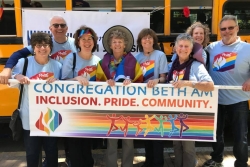 The White House hosted its annual Hanukkah party last night, inviting representatives from the American Jewish community to join the first family in celebrating the Festival of Lights.