Search Results
Displaying 1 - 10 of 10
While we have been having a relatively warm winter in the United States, it cannot compare to what winter is like in Israel.  It is the rainy season there, the time of year that Israel greens up, with cooler temperatures and rain (which feels like a miracle every time I experience it) in between
In a few weeks we will be celebrating Tu BiSh'vat. There are numerous approaches you could take in planning your celebration.
The Jewish mystics of the 17th century, the Kabbalists, created a special ritual—modeled after the Passover seder—to celebrate God's presence in nature. Today in modern Israel, Tu BiShvat has become a national holiday, a tree planting festivaTu BiShvat is not mentioned in the Torah. Scholars believe the holiday was originally an agricultural festival, corresponding to the beginning of spring in Israel. But a critical historical event helped Tu BiShvat evolve from a simple celebration of spring to a commemoration of our connection to the land of Israel. After the destruction of the Second Temple in 70 C.E. and the exile that followed, many of the exiled Jews felt a need to bind themselves symbolically to their former homeland. Tu BiShvat served in part to fill that spiritual need. Jews used this time each year to eat a variety of fruits and nuts that could be obtained from Israel. The practice, a sort of physical association with the land, continued for many centuries.l for both Israelis and Jews throughout the world
Although the celebration of Tu BiShvat has a long and varied history, the theme most commonly ascribed to the holiday today is the environment.
Too cold to plant a tree outside? This tree can be the centerpiece at your Tu BiShvat party. Most materials can be found at your local craft shop (and, of course, a quick stop at your local candy store!)
Children ages 4-10 will enjoy this messy project that blooms into a beautiful tree!
Tu BiShvat Social Action Guide
Image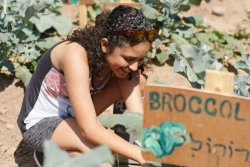 Here are some ideas for incorporating social justice themes into your Tu BiShvat celebration.
Celebrate the New Year of the Trees by making recycled paper using a blender or food processor.
The Jewish New Year of the Trees, or Tu BiSh'vat, lends itself to many home observations and activities. Here are some ideas for crafts, planting, quiet activities, and more.