Search Results
Displaying 1 - 7 of 7
For many of us, Tu BiShvat, the Jewish holiday that celebrates trees and the earth, falls in the middle of the coldest, snowiest part of the year. Nonetheless, here are seven ways you can celebrate the new year of the trees and planet Earth
While we have been having a relatively warm winter in the United States, it cannot compare to what winter is like in Israel.  It is the rainy season there, the time of year that Israel greens up, with cooler temperatures and rain (which feels like a miracle every time I experience it) in between
In a few weeks we will be celebrating Tu BiSh'vat. There are numerous approaches you could take in planning your celebration.
We celebrated the holiday of Tu BiShvat – the "Jewish Arbor Day" – way back in February, and we won't celebrate it again until January. But no matter: I need to talk about the trees now.
Whip Up a Tu BiShvat Feast with Recipes Representing the Seven Species
Image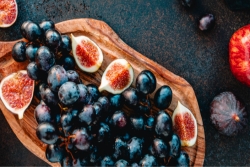 Collectively known as shivat haminim, the Seven Species are sacred fruits and grains grown in the Land of Israel.