Search Results
Displaying 1 - 10 of 15
Years ago, on a cold and sparkly winter afternoon, I sat with my younger sister in the living room, both of us savoring the long, dark pods of chewy bokser we had saved from our Tu BiShvat celebration at Religious Scho
Tu BiSh'vat, also known as Chamishah Asar BiSh'vat (the fifteenth day of the month of Sh'vat) is commonly known as the New Year for trees and falls this year on February 3. Historically, it was the date on which trees in Israel were determined to be mature enough for their fruit to be harvested. Tu BiSh'vat was the date designated because by then, the early winter rains had largely subsided and the period of "budding" was just commencing, making the holiday a celebration of renewal.
Welcome to the Jewish month of Shevat and (if you're on the East Coast) to Storm Juno. While you're inside waiting out the snow, take this time as an opportunity to take the Green Sh'vat Challenge and make your life a little greener. Unfortunately, massive snowstorms don't counteract the fact that climate change is real, human-caused and happening quickly. The Green Shevat Challenge is one small, easy way to reduce our carbon footprint by making small changes to our daily routines.
The Jewish mystics of the 17th century, the Kabbalists, created a special ritual—modeled after the Passover seder—to celebrate God's presence in nature. Today in modern Israel, Tu BiShvat has become a national holiday, a tree planting festivaTu BiShvat is not mentioned in the Torah. Scholars believe the holiday was originally an agricultural festival, corresponding to the beginning of spring in Israel. But a critical historical event helped Tu BiShvat evolve from a simple celebration of spring to a commemoration of our connection to the land of Israel. After the destruction of the Second Temple in 70 C.E. and the exile that followed, many of the exiled Jews felt a need to bind themselves symbolically to their former homeland. Tu BiShvat served in part to fill that spiritual need. Jews used this time each year to eat a variety of fruits and nuts that could be obtained from Israel. The practice, a sort of physical association with the land, continued for many centuries.l for both Israelis and Jews throughout the world
Although the celebration of Tu BiShvat has a long and varied history, the theme most commonly ascribed to the holiday today is the environment.
Too cold to plant a tree outside? This tree can be the centerpiece at your Tu BiShvat party. Most materials can be found at your local craft shop (and, of course, a quick stop at your local candy store!)
Children ages 4-10 will enjoy this messy project that blooms into a beautiful tree!
Tu BiShvat Social Action Guide
Image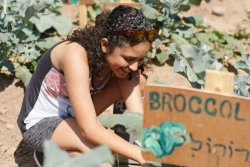 Here are some ideas for incorporating social justice themes into your Tu BiShvat celebration.