Search Results
Displaying 1 - 8 of 8
One favorite dish of the Ashkenazim that survived the move from the shtetl to North America was the hearty mushroom-potato-barley soup called krupnick.
It is life we want, no more and no less than that, our own life feeding on our own vital sources, in the fields and under the skies of our homeland, a life based on our own physical and mental labors; we want vital energy and spiritual richness from this living source.
Too cold to plant a tree outside? This tree can be the centerpiece at your Tu BiShvat party. Most materials can be found at your local craft shop (and, of course, a quick stop at your local candy store!)
Children ages 4-10 will enjoy this messy project that blooms into a beautiful tree!
Tu BiShvat Social Action Guide
Image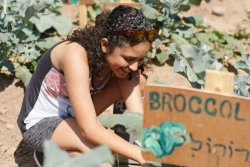 Here are some ideas for incorporating social justice themes into your Tu BiShvat celebration.
Celebrate the New Year of the Trees by making recycled paper using a blender or food processor.
The Jewish New Year of the Trees, or Tu BiSh'vat, lends itself to many home observations and activities. Here are some ideas for crafts, planting, quiet activities, and more.