Search Results
Displaying 1 - 10 of 12
Tu BiShvat, called the "New Year of the Trees," falls at a seemingly incongruous time of year. 
Tu BiShvat is a minor festival whose provenance dates only to the time of the Second Temple. However, the kabbalists who clustered around the great fifteenth-century mystic Isaac Luria of Safed placed great weight on the holiday, creating new festivities, gatherings at which hymns were sung, fruit (particularly carob) was eaten, and four cups of wine were taken (as in the Passover seder). 
It is life we want, no more and no less than that, our own life feeding on our own vital sources, in the fields and under the skies of our homeland, a life based on our own physical and mental labors; we want vital energy and spiritual richness from this living source.
Winter weighs on the soul of this author. She finds comfort, though, in the moon cycles and their symbols, laden with meaning, healing, comfort, and inspiration.
Everyone loves to participate in a Pesach seder. But did you know that there is an opportunity to celebrate a different seder about two months earlier?
Too cold to plant a tree outside? This tree can be the centerpiece at your Tu BiShvat party. Most materials can be found at your local craft shop (and, of course, a quick stop at your local candy store!)
Children ages 4-10 will enjoy this messy project that blooms into a beautiful tree!
Tu BiShvat Social Action Guide
Image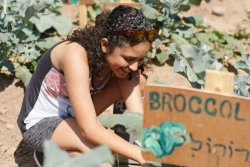 Here are some ideas for incorporating social justice themes into your Tu BiShvat celebration.
Celebrate the New Year of the Trees by making recycled paper using a blender or food processor.