Search Results
Displaying 1 - 10 of 672
Here's an easy and delicious Indian dish you can make to serve at your Purim meal. Serve it alone, over rice, or atop a salad.
What is the Reform position on clergy officiating at the wedding of a Jew to a person brought up in a different faith?
Image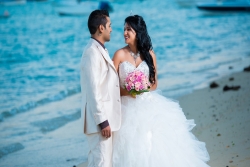 What is the Reform position on clergy officiating at the wedding of a Jew to a person brought up in a different faith? My fiancée is not Jewish, and doesn't want to convert at this time. We want a Jewish wedding, and plan to raise our children as Jews.
Historically, since the Rabbinic period (post 70 CE), Jewish status was passed down by the mother. 
During a worship service, each time the reading of a book of the Torah is completed, the congregation rises and says, "chazak chazak v'nitchazek – be strong, be strong, and we will be strengthened." According to Rabbi David Saperstein, the Ambassador-at-Large for International Religious
The ancient prohibition against doing so is based upon the conception of suicide as the conscious and willful taking of one's life.
The custom of covering one's head is based on custom, a minhag, that first appeared during the Rabbinic Period (roughly, from the beginning of the Common Era to 500 C.E.).
Last night, police intervened as women, including Anat Hoffman, Executive Director of the Israel Religious Action Center and chairwoman of Women of the Wall, prayed at the Western Wall in celebration of the beginning of the Jewish month of Cheshvan and the 100th anniversary of Hadassah.
Rabbi Jonah Pesner will serve as the Director of the Religious Action Center of Reform Judaism (RAC), the Washington, D.C. advocacy and social justice arm of North America's largest Jewish Movement. Rabbi Pesner, an accomplished advocate with broad experience leading social justice campaigns, comes to the RAC with a mandate to deepen its advocacy work while mobilizing the Reform Jewish community and its allies. In announcing the appointment, Rabbi Rick Jacobs, President of the Union for Reform Judaism, said,
"For more than half a century, the RAC has been a leading voice in Washington, D.C. for social justice. Some of the great advances in civil rights were literally written at our table. Jonah will carry that legacy forward with great distinction starting today. The issues our world faces are far too critical for us to lose any momentum during this transition. From day one, Jonah will be a powerful voice as he leads our work on economic inequality, climate change, U.S./Israel relations, healthcare reform, and more."
October 3, 2012, New York, NY - With a continued goal of increasing the level of Jewish teen engagement within its Movement, the Union for Reform Judaism (URJ) today announced expansion of its national Campaign for Youth Engagement.