Search Results
Displaying 1 - 10 of 512
Parashat Vayeira contains some of the most well-known and controversial texts in the book of Genesis, including the Akedah. These words remind us that no matter how strongly we feel about our principles, we cannot sacrifice our fellow human beings to realize them.
It may prove difficult to wait for election results, especially in these times of heightened stress and anxiety; patience may seem impossible. Fortunately, Jewish faith and tradition offer lessons for us as we enter a period of waiting and uncertainty.
Rabbi Michael Dolgin, our Genesis commentator for Ten Minutes of Torah, is passionate about community engagement, interfaith and intercultural understanding, and tikkun olam. We caught up with him on how his Torah commentaries speak to some of the critical issues of our time.
After lighting the Sabbath candles,
many people wave their hands in a circular motion three times
and bring their hands to their face when finished.
A beautiful interpretation of this practice
is that it helps us bring the light and peace of Shabbat
Here's something we know about this election: Vulnerable and oppressed communities remain vulnerable and oppressed; this election was not a clear repudiation of white supremacy. Marginalized groups continue to be at risk from white supremacists and those who enable them.
So while we don't yet know which candidate won the White House or which party will control the Senate, we do know this: Democracy is strongest when every voice is heard. State officials must take – and be allowed – the time they need to count every vote.
Our ancestor Abram, discovered the One. / But finding the Voice, he wasn't the first. / With Adam admonished, and Noah then versed / And even Enoch was walking with God.
This November, Marisa Baggett, a Memphis-area Jewish chef and food blogger, will lead three cooking classes for families and children on Reform Judaism on the Go. We caught up with her to talk about her amazing journey as a Jew and chef.
"Grace in the Wilderness," A Post–Election Day Prayer for National Healing
Image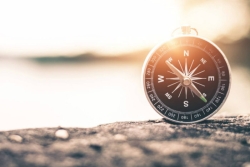 On November 4, 2020, Americans woke up to an uncertain outcome of the U.S. presidential election. People across the political spectrum are experiencing a roller coaster of confusion, fear, and hope.
Gathering in grief gives us a window into the blessings of life. Jewish tradition does this so well – which makes it all the more difficult to cope with loss in the time of COVID-19.