Search Results
Displaying 1 - 10 of 30
Following the strategy of intentional modeling, in thinking about what you will do for your kids at Rosh HaShanah this year, first think about what you want to do for YOU!  It's a stretch, I know, but if it makes you feel better it is ultimately a great thing to do for your kids.
As the mother of a transgender child, Rabbi Ari Moffic knows that personal transformation is a key and beautiful part of who each of us is.
Spending more time than usual at home these days? We've rounded up some of our favorite Jewishly inspired crafts, recipes, activities, videos, and other ideas to keep you and your family occupied during days spent indoors – all while learning about and embracing Judaism together.
I consider myself a dedicated yet anxious Jewish mom. I'm dedicated because I would like my children to have a Jewish upbringing that connects them to our collective stories, history, and values – and I'm anxious because I'm never quite sure whether I'm accomplishing that goal.
I grew up going to services. A lot of services. I was adept at counting the ceiling tiles, reaching into the thousands as my grasp of numbers grew more sophisticated. The melodies became part of my life soundtrack; I hummed them as my mind wandered during the rabbi's sermon.
During the year I spent studying in Jerusalem as a rabbinic student, it was impossible to escape the upcoming High Holy Days.
Creating New Rituals and Tradition for the School Year and the New Year
Image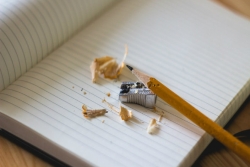 For children, traditions and rituals are significant; they provide predictability, support, and familiarity, while bringing families together and creating unity and a sense of belonging.
One of the most distinctive dimensions of the High Holy Days in our tradition is that among the major observances of the Jewish calendar, Rosh Hashanah and Yom Kippur are experienced primarily in the synagogue.
It is a truth universally acknowledged that it can be difficult to be Jewish at Christmas time. It has seeped into North American cultural consciousness so thoroughly that South Park even wrote a song about it, complete with trademark expletives.