Search Results
Displaying 1 - 10 of 10
Learn how you and your family can pursue social justice during the Jewish high holidays.
There are many wonderful customs, symbols, and traditions associated with Rosh HaShanah, the Jewish New Year, a time of prayer, self-reflection and repentance.
It is hardly surprising that 2016/5777 was an interesting Rosh HaShanah for rabbis and sermons. I hope you will enjoy all these sermons and find them as meaningful as I did.
Following the strategy of intentional modeling, in thinking about what you will do for your kids at Rosh HaShanah this year, first think about what you want to do for YOU!  It's a stretch, I know, but if it makes you feel better it is ultimately a great thing to do for your kids.
The High Holidays are a time of personal reflection and repentance and an opportunity to reaffirm the Jewish tradition's longstanding commitment to tikkun olam (repair of the world).
During the year I spent studying in Jerusalem as a rabbinic student, it was impossible to escape the upcoming High Holy Days.
Creating New Rituals and Tradition for the School Year and the New Year
Image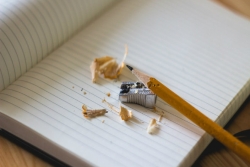 For children, traditions and rituals are significant; they provide predictability, support, and familiarity, while bringing families together and creating unity and a sense of belonging.
A conversation with Rabbi Mike Comins, Rabbi Kevin Kleinman, Rabbi Jamie Korngold, and Rabbi Owen Gottlieb. Our biblical ancestors first experienced God in the wilderness. What did they know that we need to rediscover?
Jedwabne, Poland-July 10, 2001. The market square is like a movie set.
Aside from a date, what can these two events possibly have in common? Strange as it may seem, there are a few points of comparison.