Search Results
Displaying 1 - 4 of 4
We are at an incredibly exciting moment in the movement for marriage equality for same-sex couples in the United States. Since the beginning of 2013, we have seen the United States Supreme Court strike down the core of the federal Defense of Marriage Act (DOMA) and rule on Proposition 8, restoring the freedom to marry in California; three more states enact marriage equality legislation over the course of a few short weeks (after years of work by advocates on the ground); and public opinion polls continuing to show well over majority support for the freedom of lesbian and gay citizens to marry.
I woke early one morning in June to hear the decisions of the United States Supreme Court on a pair of cases about marriage equality. Joy mixed with disappointment.
I Now Pronounce You Wife and Wife
Image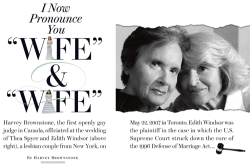 Harvey Brownstone, the first openly gay judge in Canada, officiated at the wedding of Thea Spyer and Edith Windsor, a lesbian couple from New York, on May 22, 2007 in Toronto.
As a rabbi and president-elect of the Central Conference of American Rabbis, I come here to be with you this morning at the Supreme Court on the very first day of Passover to say: Our nation is ready for marriage equality. This is one of the holiest days of the Jewish calendar. It marks the day in Jewish tradition when we mark the Exodus from slavery in ancient Egypt; it marks the beginning of a journey to freedom. Today is our day to march toward that freedom, the freedom to marry. I represent more than 2,500 Reform rabbis. We support marriage equality and have filed Friends of the Court briefs in both today's Prop 8 case and tomorrow's DOMA case. Do not let others tell you that all religions oppose LGBT equality rights. We Reform Jews welcome, support, include, and, yes, advocate full rights and equality, including the right to marry the ones we love.