Search Results
Displaying 1 - 5 of 5
On March 27,
legally married same-sex couples will be able to take unpaid time off under the Family and Medical Leave Act (FMLA)
. Signed into law 22 years ago, FMLA allows eligible workers to take a maximum 12 weeks unpaid time off of work to care for a new child (including adopted and foster children), care for a sick child, act as a caregiver for a parent, address personal serious health concerns and care for wounded service members.
The rule
, published last month, revises the definition of spouse to include legally married same-sex couples, regardless of whether the state they live in recognizes their marriage or not. This is an important step forward for LGBT individuals.
Pride Month: A Year of LGBT Victories
Image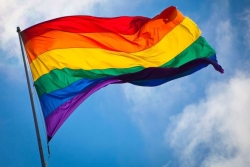 June is coming, which means LGBT Pride Month is just around the corner! Throughout the month of June, we celebrate the lesbian, gay, bisexual and transgender community throughout the nation.
Reform Rabbis Mark 25+ Years of Standing for LGBT Equality
Image