Search Results
Displaying 1 - 8 of 8
By the end of the month, the Supreme Court is expected to issue a historic ruling on marriage equality. The joint suit – known by the first listed case of the group
Obergefell v. Hodges
– could establish marriage equality in all fifty states and addresses two questions:
Does the Fourteenth Amendment require a state to issue marriage licenses to same-sex couples? And;
Does the Fourteenth Amendment require a state to recognize marriages of same-sex couples performed out of state?
Today, the Supreme Court issued an historic 5-4 ruling in
Obergefell v. Hodges
in favor of marriage equality. Justice Anthony Kennedy's majority opinion strongly advocated for expanding freedom as the need arises.
The nature of injustice is that we may not always see it in our own times. The generations that wrote and ratified the Bill of Rights and the Fourteenth Amendment did not presume to know the extent of freedom in all of its dimensions, and so they entrusted to future generations a charter protecting the right of all persons to enjoy liberty as we learn its meaning. When new insight reveals discord between the Constitution's central protections and a received legal stricture, a claim to liberty must be addressed.
Contact: Max Rosenblum or Jordan Dashow
202.387.2800 | news@rac.org
Pride Month: A Year of LGBT Victories
Image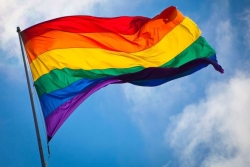 June is coming, which means LGBT Pride Month is just around the corner! Throughout the month of June, we celebrate the lesbian, gay, bisexual and transgender community throughout the nation.
The Happy Tears of a Jaded Activist for LGBTQ Equality
Image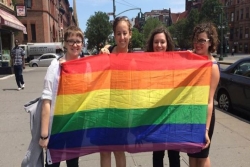 I confess to being a bit jaded after 30+ years as a public policy activist (40+ years if you want to count my high school and college activism during the early era of the fight for Soviet Jewry).
Taking Pride in Our Decades of LGBT Advocacy
Image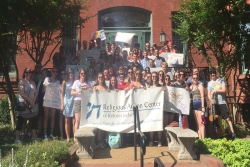 As we celebrate LGBT (Lesbian, Gay Bisexual, Transgender) Pride Month this June, the Reform Jewish community has a lot to be proud of. For decades the Reform Movement has been one of the leading faith voices in Washington, D.C., and around the country advocating for LGBT equality.
Already this month, we have celebrated inclusion in its many forms:
making congregations accessible to those with disabilities
,
highlighting women's stories in the Torah and Talmud
,
breaking the Jewish glass ceiling for women
, and of course,
celebrating LGBTQ Pride Month
. Women of Reform Judaism was ahead of its time and the entire Reform Movement in 1965, when it publicly supported the decriminalization of homosexuality. Since then, WRJ has not stopped
speaking up for LGBTQ people and their rights
as citizens and as Jews - and
the entire Reform Jewish Movement has now joined in
. As a young, queer Jew growing up in a Reform synagogue, I didn't know that these resolutions were being made - that the women in our temple sisterhood were a part of a larger movement to support LGBTQ rights. But I never worried about acceptance in my community. Our small post-confirmation class with the rabbi frequently discussed Reform & Conservative Judaism's support of same-sex marriage. Our adult youth group advisors were a lesbian couple who were married by our rabbi. I knew that if and when I came out, it would be okay. We all know that the Reform Movement supports LGBTQ Jews, but how can congregations, sisterhoods, and brotherhoods put this audacious hospitality into practice? Here are some ideas: