Search Results
Displaying 1 - 5 of 5
Panel of local experts discuss the evolving views of homosexuality and definitions of marriage.
Pride Month: A Year of LGBT Victories
Image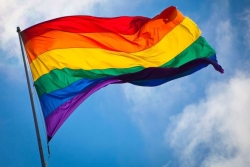 June is coming, which means LGBT Pride Month is just around the corner! Throughout the month of June, we celebrate the lesbian, gay, bisexual and transgender community throughout the nation.
Smashing the glass: It's the most recognizable and iconic of rituals at the Jewish wedding, and while the explanation for this most tangible of Jewish customs has been interpreted by many, the most common one reminds us that even in times of joy we must remember that which is broken in this world
Just as some people are excited about the beginning of a new season of their favorite television show, many people (including me) are excited about the new Supreme Court term, which began on October 5.