Search Results
Displaying 1 - 4 of 4
To celebrate the 100th anniversary of women's suffrage in the United States this year, Rabbi Carole Balin, Ph.D., is sharing eight chapters of an "alternative Book of Numbers" designed to tell the stories of Jewish women who combined civic engagement with Jewish values in a 40-year struggle "
Pride Month: A Year of LGBT Victories
Image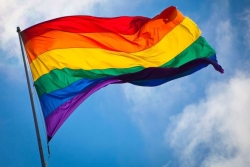 June is coming, which means LGBT Pride Month is just around the corner! Throughout the month of June, we celebrate the lesbian, gay, bisexual and transgender community throughout the nation.
Wholly Jewish: Leonard: Creating Seats at the Queer Jewish Table
Hosted by Jewish performance and ritual artist Shira Kline (she/her), a.k.a. ShirLaLa, this season features interviews with LGBTQIA+ Jews from the Union for Reform Judaism's JewV'Nation Fellowship.
Judaism is in a constant state of reform, and our approach to LGBTQ+ inclusivity should be, too. Leonard Slutsky (he/him), a Union for Reform Judaism lay leader and college admissions counselor, shares his experiences as a gay cisgender Jewish man; how Reform Jewish spaces affirmed his gay identity; how Judaism inspires his work as a suicide hotline volunteer; and how our communities can better serve queer Jews of all backgrounds. "I feel that it's my role as someone who has a great deal of privilege, especially within the queer community," he says, "to use it and help support those who don't have as much as a voice."