Image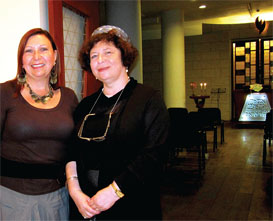 Travel is my passion. I find nothing more exhilarating than visiting new places…but not for the reasons you may expect. Yes, I enjoy visiting historical sites, seeing magnificent art and architecture, and sampling delicious indigenous food. But my real joy comes from meeting people, especially when they are Jewish. I love to learn what it's like to live as a Jew in another country…what is similar to the U.S. and what is different. Usually the similarities fascinate me most.
I've conversed with party-goers at a Sephardic bar mitzvah—on a Thursday evening—in Nice, France (except for the language, the party was like all the ones I've attended in America); learned about French Jewish Pesach traditions while buying Passover pastries at a kosher bakery in Paris; and conversed with a Jewish glass blower in Venice about a Murano glass kiddush cup that seemed like a major extravagance—but which I've regretted not buying ever since. And, this past summer, my husband Jay and I experienced the most personal Jewish encounter of all—attending Shabbat services as the guests of honor at Sha'arei Shalom, the Progressive (Reform) synagogue in St. Petersburg, Russia.
Before the trip, I learned of and reached out to Rabbi Gary Bretton-Granatoor, vice president for philanthropy at the World Union for Progressive Judaism. He excitedly explained that St. Petersburg was one of only four cities in all of Russia—the others being Moscow, Minsk and Kiev—that had a Progressive synagogue. Since our time in St. Petersburg included a Friday night, he suggested we attend Shabbat services and put me in touch with Rabbi Helena Rubenstein—"who," he said, "along with her congregation, will treat you like a queen!"
Rabbi Rubenstein wrote, in good English, that she'd be delighted to have us. She provided me with the address and directions—and her cell phone number.
---
After our first day of exploring the city, I was still feeling jet lagged from the 11-hour time difference and regretting my commitment to attend services. Plus it was cold and rainy; a bowl of hot borscht and an early evening sounded very appealing.
But the rabbi was expecting us, so we hailed a taxi to what turned out to be a Soviet-era office building, across from "the Cruiser Aurora" (which, we later learned, was the ship that fired the shot that started the 1917 Bolshevik Revolution, and is now a museum). The taxi driver pointed and sped away. Without any signage, we had no idea what we were looking for. A man who seemed to be a security guard looked at the address—in Russian—and led us to a dismal yard surrounded by a chain link fence. This could not be right.
Retracing our steps back to "the Cruiser Aurora," I called the temple, only to reach a Russian-speaking woman who didn't understand me and hung up.
Now it was raining hard, the wind upending our umbrella. Royalty, hmmm.
I fumbled for the rabbi's cell phone number, and to my relief she answered. Her secretary would soon meet us outside the building.
At last, we saw someone gesturing broadly, "Come in, come in." We had arrived at Sha'arei Shalom.
Rabbi Rubenstein, an elegant woman in her mid-50s, greeted us warmly. She immediately offered us tea and sweets, and then (as she was in the midst of a counseling session) put us in the hands of one of her English-speaking members: Alla, a beautiful young woman with an adorable two-year-old daughter.
Alla showed us around the first floor facilities: sanctuary—a very modern space reminiscent of American synagogues—offices, and a small social hall (religious school classrooms occupy the upstairs space). She apologized in advance for the small turnout expected at services—about 20 of 100 members—because of the rain and many members away on summer vacations.
When Rabbi Rubenstein rejoined us, she told us her life story—the twists and turns of how a young Jew who grew up without an understanding of Judaism in 1960s and 70s Moscow—a time when the Soviets didn't permit religious practice—became a Progressive rabbi. Today she is one of only six native Russian-speaking Progressive rabbis serving in the FSU.
---
As predicted, the service attracted about 20 people—mostly young, with children, but also a few seniors. We were given a siddur in English and Hebrew, and the rabbi made sure we sat near Alla for the purpose of translation. Now I understood what Rabbi Bretton-Granatoor meant about being treated like royalty.
First, I was asked to come up to the bimah and light the Shabbat candles. I began singing what I assumed was the universal melody for the candle-lighting blessing—the one melody I'd heard in every synagogue I'd ever attended—but when the rabbi and congregation joined in, it was a completely different minor-keyed tune! It seemed best to mouth the brachah silently. And when it was time for Aleinu, Rabbi Rubenstein asked Jay and me to come to the bimah to open the ark.
Notably, the order of the service was very familiar—much like what we do at Temple Beth Torah in Ventura, California. The prayers were the same. When I heard familiar melodies, like L'cha Dodi, I joined right in. The Sh'ma was chanted with a different melody, which surprised me too—of all our prayers, didn't this one have a universal tune?
During the service, to keep us feeling included, the rabbi frequently gave explanations and page numbers in English. And, during the sermon—which of course was in Russian—the rabbi had arranged for another congregant, a young woman named Katya who teaches English for a living, to sit next to me and translate. It was a little like the childhood game of "telephone." Whispering into my ear so softly as to not disturb others, and in heavily accented English, Katya would say something that I could hardly comprehend, and I would whisper something to Jay that made even less sense. Despite my lack of comprehension, I felt greatly appreciative of the special attention. And it struck me: The experience we were having right now in St. Petersburg was being repeated at Progressive/Reform synagogues all over the world. What a spiritual uplift, to be connected to a global community of fellow Jews.
As with any Jewish gathering, food has to be part. Indeed, for a small synagogue, the oneg Shabbat at Sha'arei Shalom was very elaborate. The rabbi's secretary is an incredible baker, and challah is her specialty. It was sweet, cake-like, filled with either raisins or currants—and surely the most delicious I've ever eaten. And, to our delight, she had made two extra loaves for us to take back to our hotel!
We chatted more with Katya and another young married couple, Anastasia and Vladimir. All three of them, it turns out, are Jews by choice, and all believe they have some Jewish ancestry. None are from Russia—Katya hails from Latvia and Anastasia and Vladimir from Lithuania. All are trying to obtain passports from their ancestral countries to travel outside of Russia—evidently, obtaining a visa to travel abroad is exceedingly difficult for citizens who hold just a Russian passport.
Being Jewish in Russia is still a difficult choice, and being a Progressive Jew even more so. Although the fall of the Soviet Union freed its citizens to practice religion, the vast majority are Russian Orthodox. Among Jews, most are Orthodox, and Chabad has a sizeable presence. Katya, Anastasia, and Vladimir have chosen the Progressive Movement for the same reasons I appreciate being a Reform Jew—individual religious autonomy and gender equality.
But in the U.S. it's easy for me to be a Reform Jew—I live two miles from my congregation, and I have the legal right to take time off from work to celebrate the High Holy Days. In Russia, because of the high cost of city living, these three young people reside in outlying areas and travel long distances to attend services every Friday night. And if they took time off from work to attend services they would risk losing their jobs, because religious practice is not a protected right in Russia.
---
It was time to leave, and Vladimir kindly offered to drive us back to the hotel. We exchanged full names with congregants so we could become Facebook friends and keep in touch.
Even better, Katya asked if we had any free time when she could take us around St. Petersburg—of course!
That Monday, Katya met us at our hotel. We strolled several miles to the park behind the Yusopov Palace, where Grigory Rasputin, who had spell-bound Empress Alexandra, was murdered by his enemies. The weather had turned warm and sunny—unusual in St. Petersburg, which gets about 50 sunny days a year—and the park was filled with people. Katya told us she was in the process of converting to Judaism, and feels conflicted about making aliyah. She doesn't want to move to Israel because "it's too hot and too Eastern," but she thinks that, as a Jew, she should want to live there.
---
Since returning home, I have heard from both Katya and Anastasia on Facebook, and from Sha'arei Shalom by email, further cementing our bond with new friends in St. Petersburg. I'm thrilled to have made the connection.
My experience in St. Petersburg deepened my passion for travel and proved yet again that the wonder of going places is not about sites or restaurants or souvenirs—it's about people. It was thrilling to participate in Shabbat services in St. Petersburg—where, just 20 years ago, residents couldn't acknowledge their Judaism.
I am now set on seeking out Progressive Judaism synagogues in other parts of the world. Meeting, praying, and socializing with Jews who share my religious perspectives and passions transforms a trip from a memorable vacation to an enduring experience of Jewish connectedness and spiritual renewal.
Gail Glezerman Sherman is a member of Temple Beth Torah, Ventura, California.