Image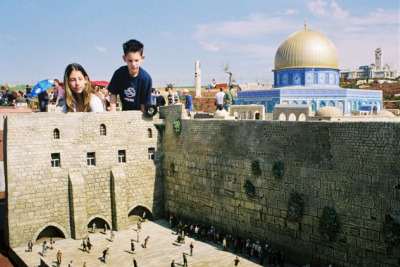 Many visitors to Israel would like to bring their children to introduce them at a young age to the Jewish homeland. However, most children do not have the patience for a trip filled with sightseeing. Take a break with these fun activities that you and your kids can enjoy.
The Holon Children's Museum has interactive exhibits designed for kids of all ages. Permanent exhibits include "Dialogue in the Dark", which teaches kids what it is like to blind, and "Museum Trails", which offer age-specific imaginary adventures through the museum.
Mini Israel offers visitors the chance to experience Israel from above without getting on a helicopter- the site offers 350 miniature models of Israel's most recognizable landmarks and neighborhoods.
The Jerusalem Biblical Zoo prominently features animals associated with the Land of Israel and the Bible, with an effort to protect and educate about those that are endangered. The Israeli Center for Raptor Egg Incubation recently opened to the public as well.
The Jerusalem Time Elevator takes visitors on a journey through the city's 3,000-year history. Israeli actor Chaim Topol, best known for his role as Tevye in Fiddler on the Roof, stars in this 30-minute multimedia presentation.
The Ramat Gan Safari has the largest collection of animals in the Middle East and allows visitors to view them as they roam the 250-acre African park.
Luna Park in Tel Aviv is Israel's most famous amusement park, featuring carousels, water slides, roller coasters, a Ferris wheel, and more!
The Marzipan Museum is a unique treat in the Lower Galilee. Visitors can tour the factory where marzipan is made, take part in marzipan- and chocolate-making workshops, and view an exhibit of marzipan sculptures.
The Orange Lane (Shvil HaTapuzim) offers orange picking in the winter, and plenty of other activities, including mini-golf, obstacle courses, and a carpentry workshop, throughout the year.
The Train Museum features, alongside an educational tour of the history of the train, demonstrative exhibits and historical trains that kids can go inside and explore.
The Bloomfield Science Museum Jerusalem includes an IMAX theater and loads of interactive exhibits, both inside and outside, for children of all ages.