Image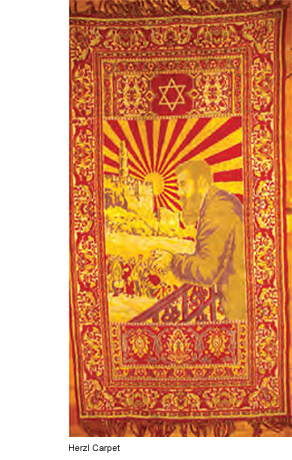 Dear Jonathan,
I inherited my grandfather's tapestry, which portrays Theodor Herzl on a balcony at the First Zionist Congress. I believe it may be an early 20th century piece produced by the Bezalel School of Art and Design in Jerusalem. What are your thoughts as to its rarity and value?
Nigel Fisch
Member, Temple Shaaray Tefillah,  New York City
Dear Nigel,
The carpet is wonderful. You are correct that Herzl is the subject. This iconic pose was taken on the balcony of the Drei Könige Hotel in Basel, Switzerland, where Herzl was staying in August 1897 while chairing the First World Zionist Congress. Most paintings and sculptures of Herzl show this pose.
It is true that Herzl and other early Zionistic figures were commonly depicted by artists at the Bezalel Academy of Art and Design, founded in 1906 in order to develop a "Jewish" style of art in Palestine. However, I do not think this piece was made at Bezalel, because almost all of the works created at the academy were signed "Bezalel, Jerusalem." More likely, the carpet was produced by a Bezalel student or a contemporary.
From your photograph, the tapestry appears to be just under 100 years old and in remarkably good condition for its age. We have sold this model at auction several times for about $1,500. If it were signed "Bezalel, Jerusalem," it most likely would sell in the $2,500 range.
Jonathan Greenstein, founder J. Greenstein & Co., Inc.
Jonathan@JGreenstein.com
Dear Jonathan,
I am delighted to learn that the tapestry is valuable. Unfortunately, it has lain in a cupboard for some years and prior to that adorned our Sukkah each year. Now I intend to take greater care of it.