Image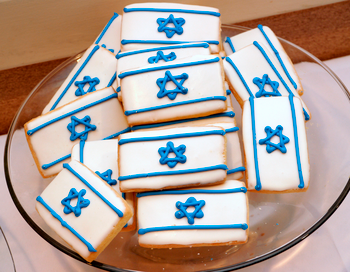 Tel Aviv/Jaffa
Avazi: 54 Haetzel St., Hatikva Quarter, Tel Aviv, (03) 687-9918, daily 11:00 AM–3:00 AM. A simple, long-established, well-beloved eatery at which meals open with a mixed meze (appetizers) and go on to meat grilled on skewers. Best bets: goose liver, mutton, sweetbreads, lamb kebabs, lamb chops.
Barbounia: 163 Ben Yehuda St., Tel Aviv, (03) 524-0961, Sat–Thurs noon to midnight, Fri noon–6:00 PM. A popular fixed-price fish restaurant with not at all fancy but rewarding fare. Best bets: opening meze of six different salads and then grilled or fried sea bass, sea bream, or other fresh fish.
Orna and Ella: 33 Shenkin St., Tel Aviv, (03) 620-4753, Sun–Thurs 10:00 AM–1:00 AM, Fri 10:00 AM–5:00 PM, Sat from 6:00 PM. A beloved café-restaurant. Best bets: carrot soup, sweet potato pancakes, pear and carrot cakes.
Mifgash Habalkan: 43 Jerusalem Boulevard, Jaffa, (03) 683-0719, Mon–Thurs 11:00 AM–9:00 PM, Sun until 4:30 PM, Fri until about 6:00 PM. A genuine Balkan cookery in an unpretentious, workingman's bistro-style setting. Best bets: moussaka, Bulgarian kebabs, baked stuffed dates for dessert.
Dr. Shakshouka: 3 Beit Eshel Street, Jaffa, (03) 682-2842, Sun–Thurs 9:30 AM–midnight, Fri until 5:00 AM, Sat night until 1:00 AM. Simple, bustling, and noisy, but good food. Best bets: shakshouka (spiced egg and tomato casserole) and kubbeh (fried burghul filled with meat and pine nuts). Kosher.
Jerusalem
Dolphin Yam: 9 Ben Shetach St., Jerusalem, (02) 623-2272, daily noon to midnight. Good fish specialties in a remodeled old stone building with an attractive patio. Best bets: opening meze of nine salads, grouper carpaccio, sea bream fillets in garlic and butter sauce, drumfish with white wine sauce.
Sima: 82 Agrippas St., Jerusalem, (02) 623-3002, Sun–Thurs 10:00 AM–1:00 AM, Sat from 8:00 PM. Most come to this Jerusalem landmark to feast on "Jerusalem mixed grill"—chicken hearts and livers with bits of lamb seasoned marvelously and fried with onion, garlic, and spices. Kosher.
Haifa/Mount Carmel
Ma'ayan Habira: 4 Natanson St., Haifa, (04) 862-3193, daily 10:00 AM–5:00 PM. A simple eatery with divine traditional Balkan dishes. Best bets: eggplant dishes, ikra (a creamy mixture of fish eggs, much like Greek taramasalata), mutton stew with shallots, flank steak with root vegetables.
Jacko: 12 Hadekalim St., Haifa, (04) 866-8813, Sun–Fri noon–11:00 PM, Sat noon–6:00 PM. This simple fish and seafood restaurant is a long-established favorite among Haifaites. Best bets: deep-fried red mullets; fried, baked, or grilled sea bream, grouper, or sea bass.
Mis'edet Hakeves: on the main street of Daliat-al-Carmel, Mount Carmel, (04) 839-3510, daily 10:00 AM–10:00 PM. There is no street number, but you can't miss it because of the line of people waiting for a table. An informal, comfortable eatery situated in a picturesque Druze village not far from Haifa. Best bets: stuffed vine leaves, tabbouleh, lamb and bean tagine, lamb or mutton chops with fresh mint sauce.
Heavenly Hummus
Without hummus, the culinary life of the entire Middle East would be sadly lacking. Known to have been enjoyed in the region for at least 5,000 years, this seemingly super-simple dish at its most basic contains nothing more than chickpeas, garlic, onion, and olive oil, all ground together. Depending on where it's served in Israel, it may be offered up with tchina (ground sesame-seed paste), parsley, cay­enne pepper, and sometimes ful (Egyptian brown beans), and almost always with pita bread and hot sauce.
The best hummus restaurants in the country are simple places, often recognizable by the long line of people waiting for tables. The very best tend to serve their delicacies from eight or nine in the morning until the freshly made supply runs out, generally somewhere between one and three in the afternoon. I consider these three the finest in the country:
Humous Lina: Akbat el Hanaqua 42, in the Christian Quarter, near Via Delarosa, Jerusalem.
Abu Hassan: 1 Hadolphin St. and 18 Shivtai Israel St., both in Jaffa.
Humous Sa'id: just inside the market of the old city of Acre. This small restaurant has no address; if you cannot find it, phone 04-991-3945 and someone will direct you to the premises.
Feasting on Falafel
Although many think of falafel as the national food of Israel, these wonderful, small, deep-fried balls of ground chickpeas and spices, usually served in a pita along with condiments and salads, most likely originated in Egypt. After the Palestinians imported falafel to Eretz Israel in the 1920s, the Jews adopted it into the Israeli street food par excellence.
Today, you will find Israeli connoisseurs arguing for hours over just where the best falafel is to be found. The very best is served not in restaurants but at food stands, some most charitably described as joints, and if there is a place at which to sit, it is more often at a counter set with rickety stools. You can taste good falafel in dozens of cities, towns, and villages throughout the country, but for my money the two best falafel joints are across the street from one another in Haifa.
In the neighborhood known as Wadi Nisnas, you'll find Falafel Michel (7 Hawadi Street) and Falafel Hazkeneem (8 Hawadi Street). In both places the falafel is crisp, perfectly spiced and herbed, and just as dense as it should be. Hazkeneem's falafel balls are a bit more dense, and Michel's contain a bit more cumin, but judging them is a matter of personal taste. My advice—whether you take your falafel with nothing more than a bit of the ground sesame-seed sauce known as tchina in your pita bread or whether you go the full route with tchina, hot sauce, finely chopped vegetables, and fried eggplant slices—is to order half a portion at each place. The prices are comparable: falafel and a soft drink will cost about NIS 20 ($5.00).