Image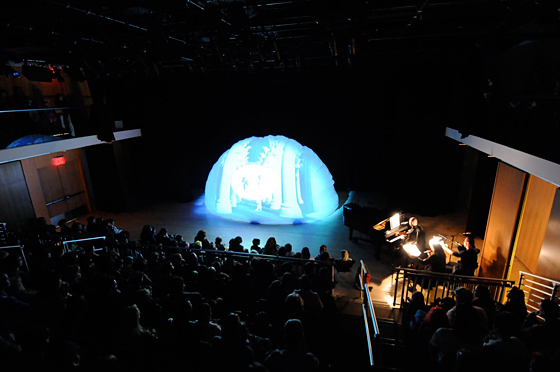 Luba Proger and Leonid Khanin are a husband-and-wife team who investigate Jewish identity through art. One of their recent projects, is a very non-traditional staging of the traditional Purim schpiel, or story, which celebrates the salvation of the Jews in ancient Persia thanks to the cleverness of Queen Esther and her cousin Mordecai, who prevailed over the evil Haman, who planned to annihilate the Jews.
This unique production of the Purim story is performed by shadow puppets inside a back-lit white bubble with customized back-drops and pre-recorded songs in Russian and English. The Russian version is based on songs from classic Soviet cartoons, while the English one features parodies of well-known musical theater, pop and rock tunes.
Proger and Khanin created the original Russian language production in March 2009 as a way to share the little-known Purim story with Russian-Jewish-American audiences in New York City. Funded by the Center Without Walls (a project of Council of Jewish Emigre Community Organizations, a beneficiary of UJA-Federation of New York), the Russian production was such a hit that the duo decided to create an English-language version in 2011. With generous support from the Genesis Philanthropy Group and Olga and Ruvim Breydo, the English version also received rave reviews from audiences at the Jewish Community Center of Manhattan. This year, both versions will be produced in downtown Brooklyn.
Collaborating since 2004, Proger and Khanin's combined multidisciplinary education and experience in fine art, architecture, and photography have allowed them to create a number of innovative art projects exhibited in various venues. Their collaboration, which they call L2coLAB, has been involved in multidisciplinary art and theater projects, addressing ideas of identity, multiculturalism, and belonging.
L2coLAB has focused much of their work on the exploration of identity within the Russian-Jewish immigrant community. Their Project OKNA was a multimedia installation inspired by diverse personal stories about the unique juxtaposition of Soviet/Russian past and Jewish identity. The artists looked through OKNAs, or windows, into memories of their subjects. Video art and music created an immersive environment that raised important questions such as "Where do we come from?" and inspired participants and viewers to understand their own Russian and Jewish identities.
When asked what drives her to create, Proger said, "American Jews have the freedom to choose to practice religion and jewish traditions. For a long time, Soviet Jews did not have that. We are now choosing retroactively. This choice became especially important for me and my husband when our son was born. We wanted to communicate where we came from."
Proger also sees the beauty in Jewish traditions. "We read folktales of all sorts from all over the world and Jewish culture has a lot of folklore that hasn't been exposed to the rest of the world. It's a cultural treasure that we want to share, so we chose to do the Purim schpiel, to introduce Russian audiences to this story that took place hundreds of years ago as a way for them to connect with their Judaism today."
Watch this video to get a taste of the Russian production.
Annette Powers is the Communications and PR Manager at the Union for Reform Judaism.