You are here
Video: An Easy Way to Make Honey Cake
Video: An Easy Way to Make Honey Cake
Tina Wasserman demonstrates a quick and easy way to make a delicious honey cake. Get the full recipe.
So exactly how did Steve Cook find himself running successful, Jewishly influenced restaurants?
When Gabe Fuschillo became a bar mitzvah, it was the first bar mitzvah in his family in 100 years. 
Daryl Messinger asked her audience to finish the sentence: "Because of the Reform Movement..."  See what they had to say!
Whether you're a member or a visitor, familiarity with synagogue etiquette will help you get the most from your experience.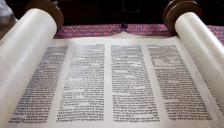 The Eternal One spoke to Moses, saying: "Speak to Aaron and say to him, 'When you mount the lamps, let the seven lamps give light at the front of the lampstand.'" - Numbers 8:1-2
Want to explore Reform Judaism but have no in-person opportunities to study? This class is for you! Register now.
Our sacred texts force us to confront our tradition's long history of gender-based violence. 
Temple Emanuel of Greensboro, N.C., has passed a congregational resolution on a contemporary issue. 
Natalie Portman is far from the only Israeli-in-America success story. Meet 7 more!
My first Yiddish lesson didn't go well — but an unlikely friendship saved the day.
Search URJ.org and the other Reform websites:
WRJ Shop MRC
The artwork on this note card was created by 5768 WRJ Art Calendar artist Césan d'Ornellas Levine.
$7.50/pack
Show your WRJ pride with this zippered canvas bag. Features the phrase "Well-behaved women rarely make history" and the WRJ logo.
$18 $15