Video: How to Make Purim Groggers (Noisemakers) with Objects You Have at Home
Video: How to Make Purim Groggers (Noisemakers) with Objects You Have at Home
Celebrate the Jewish holiday of Purim with a fun activity: making groggers. Groggers (noisemakers) are traditionally used to drown out the sound of the name of the evil Haman, when the M'gillah (the story of Purim) is read aloud. Learn how to make your own groggers by recycling objects you have around the house. 
Jewish Holidays navigation feature buckets
The 7 weeks between Passover and Shavuot are known as the Omer. Learn what "counting the Omer" means, why it's done, and how to say the blessing.
Lag BaOmer is a festive day of outdoor celebration. Especially in Israel, many people celebrate with picnics and barbecues and use bonfires to symbolize the light of Torah.
Jewish Life navigation feature buckets
A rabbi shares his personal experience of finding his spiritual home.
Practice navigation feature buckets
Learn the blessing for placing a mezuzah on the doorposts of your house.
If you're curious about Judaism, thinking of converting, or know someone who is, here are some excellent resources to learn more about Judaism.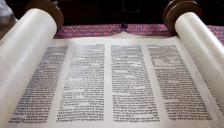 The Eternal One spoke to Moses on Mount Sinai: "Speak to the Israelite people and say to them: When you enter the land that I assign to you, the land shall observe a sabbath of the Eternal." - Leviticus 25:1-2
Learning navigation feature buckets
Want to explore Reform Judaism but have no in-person opportunities to study? This class is for you!
Social Justice navigation feature buckets
There's a deep relationship between Judaism and social action.
Israel navigation feature buckets
Reform Zionism is a continuation of the early Zionist dream to foster a living, breathing national culture that represents the highest ideals of Jewish peoplehood. 
What does it mean to stand up for your people unequivocally if they physically harm you because they disagree with you so vehemently?
Search URJ.org and the other Reform websites:
WRJ Shop MRC
WRJ Shop MRC
The artwork on this note card was created by 5768 WRJ Art Calendar artist Césan d'Ornellas Levine.
$7.50/pack
Show your WRJ pride with this zippered canvas bag. Features the phrase "Well-behaved women rarely make history" and the WRJ logo.
$18 $15