Video: How to Make Purim Groggers (Noisemakers) with Objects You Have at Home
Video: How to Make Purim Groggers (Noisemakers) with Objects You Have at Home
Celebrate the Jewish holiday of Purim with a fun activity: making groggers. Groggers (noisemakers) are traditionally used to drown out the sound of the name of the evil Haman, when the M'gillah (the story of Purim) is read aloud. Learn how to make your own groggers by recycling objects you have around the house. 
So exactly how did Steve Cook find himself running successful, Jewishly influenced restaurants?
When Gabe Fuschillo became a bar mitzvah, it was the first bar mitzvah in his family in 100 years. 
Daryl Messinger asked her audience to finish the sentence: "Because of the Reform Movement..."  See what they had to say!
Whether you're a member or a visitor, familiarity with synagogue etiquette will help you get the most from your experience.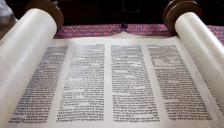 The Eternal One spoke to Moses saying: "Speak to the whole Israelite community and say to them: You shall be holy, for I, the Eternal your God, am holy." - Leviticus 19:1-2
Want to explore Reform Judaism but have no in-person opportunities to study? This class is for you! Register now.
Our sacred texts force us to confront our tradition's long history of gender-based violence. 
Temple Emanuel of Greensboro, N.C., has passed a congregational resolution on a contemporary issue. 
Natalie Portman is far from the only Israeli-in-America success story. Meet 7 more!
My first Yiddish lesson didn't go well — but an unlikely friendship saved the day.
Search URJ.org and the other Reform websites:
WRJ Shop MRC
The artwork on this note card was created by 5768 WRJ Art Calendar artist Césan d'Ornellas Levine.
$7.50/pack
April showers bring May flowers; prepare with a WRJ umbrella—now on sale!
$18 $12