You are here
Video: How to Tashlich
Rabbi Larry Karol of Temple Beth-El in Las Cruces, NM explains and demonstrates the ritual of Tashlich.
Hydrate, hydrate, hydrate... and other ways to prepare yourself to fast on Yom Kippur.
Don't have a sukkah? Here are a few crafts you can do with supplies you already have at home.
Rabbi James Rudin reviews Simon Levis Sullam's well-researched book that shatters the widely-held belief that Italians protected their Jewish fellow citizens from the horrors of the Holocaust.
Learn how to navigate the stress of the High Holidays as a parent. Make your holidays less frantic by following this helpful guide.
Alden Solovy offers this prayer that is especially relevant during hurricane season.
Whether you're a member or a visitor, familiarity with synagogue etiquette will help you get the most from your experience.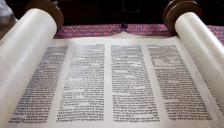 Give ear, O heavens, let me speak; Let the earth hear the words I utter! - Deuteronomy 32:1
Want to explore Reform Judaism but have no in-person opportunities to study? This class is for you! Register now.
There's a deep relationship between Judaism and social action.
Learn why Anat Hoffman fights for women's rights in Israeli society.
Mattan loves his homeland while disagreeing with its government.
Search URJ.org and the other Reform websites:
WRJ Shop MRC
The artwork on this note card was created by 5768 WRJ Art Calendar artist Césan d'Ornellas Levine.
$7.50/pack
Show your WRJ pride with this zippered canvas bag. Features the phrase "Well-behaved women rarely make history" and the WRJ logo.
$18 $15