Webinar: Sharing Your Harvest with Others: Sukkot and Social Justice
Learn about two successful congregational food justice programs: an edible garden that is helping attract new synagogue members and build stronger interfaith relations and an educational program that focuses on food, Judaism and sustainability.
Presenters: Naomi Abelson, Rabbi Sue Levi Elwell, Rachel Cohen, Robert Nevel and Rabbi Joel Simonds
Learn about  the Shabbat customs, traditions, and practices observed in synagogues and Jewish communities throughout the world.
Purim, occurring this year on March 20-21, is celebrated with a wonderful tradition of creating and sending food packages to friends and family.
A rabbi shares his personal experience of finding his spiritual home.
Learn the blessing for placing a mezuzah on the doorposts of your house.
If you're curious about Judaism, thinking of converting, or know someone who is, here are some excellent resources to learn more about Judaism.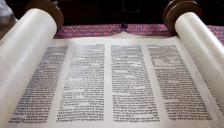 The Eternal One spoke to Moses, saying: "When you take a census of the Israelite men according to their army enrollment, each shall pay the Eternal a ransom for himself on being enrolled, that no plague may come upon them through their being enrolled." - Exodus 30:11-12
Want to explore Reform Judaism but have no in-person opportunities to study? This class is for you! Register now.
There's a deep relationship between Judaism and social action.
Learn why Anat Hoffman fights for women's rights in Israeli society.
Mattan loves his homeland while disagreeing with its government.
Search URJ.org and the other Reform websites:
WRJ Shop MRC
The artwork on this note card was created by 5768 WRJ Art Calendar artist Césan d'Ornellas Levine.
$7.50/pack
Show your WRJ pride with this zippered canvas bag. Features the phrase "Well-behaved women rarely make history" and the WRJ logo.
$18 $15