Webinar: Torah Alive: Israel and Worship - Rendezvous with History
Jerusalem and Israel are a constant in our liturgy and ritual. When a child is born, at a wedding, even at burial, Jerusalem and Israel are present. In the Birkat Hamazon, for every meal and in the daily prayers for rain or dew, Israel is present. What part does Israel play in our daily lives dwelling outside the land?
Presenters: Joan Glazer Farber and Rabbi Daniel Allen
Jewish Holidays navigation feature buckets
At the beginning of the Passover seder, the youngest person asks the Four Questions. Here's a handy guide to the questions in English and Hebrew, with a downloadable melody and printable version.
Don't be overwhelmed by hosting your own seder. Use this handy checklist to help you prepare!
Jewish Life navigation feature buckets
A rabbi shares his personal experience of finding his spiritual home.
Practice navigation feature buckets
Learn the blessing for placing a mezuzah on the doorposts of your house.
If you're curious about Judaism, thinking of converting, or know someone who is, here are some excellent resources to learn more about Judaism.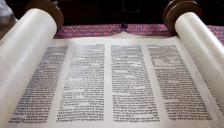 The Eternal One spoke to Moses after the death the two sons of Aaron who died when they drew too close to the presence of the Eternal. - Leviticus 16:1
Learning navigation feature buckets
Want to explore Reform Judaism but have no in-person opportunities to study? This class is for you! Register now.
Social Justice navigation feature buckets
There's a deep relationship between Judaism and social action.
Israel navigation feature buckets
Learn why Anat Hoffman fights for women's rights in Israeli society.
Mattan loves his homeland while disagreeing with its government.
Search URJ.org and the other Reform websites:
WRJ Shop MRC
WRJ Shop MRC
The artwork on this note card was created by 5768 WRJ Art Calendar artist Césan d'Ornellas Levine.
$7.50/pack
Show your WRJ pride with this zippered canvas bag. Features the phrase "Well-behaved women rarely make history" and the WRJ logo.
$18 $15