Image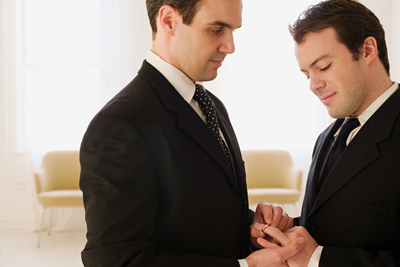 Marriage. At its best, it can be the most fulfilling relationship you will have: preparing you for parenthood, supporting and challenging you as you journey through life. At its worst, it leaves you feeling discontented and isolated. With so much at stake, couples contemplating marriage are well advised to discover that it is a process that begins long before the bride and groom step under the chuppah.
Much of Judaism focuses on family and children. Our prayers include reminders that each of us is respnsible for continuing our heritage "from generation to generation." Marital and parental relationships are inextricably connected, and Jewish traditions provide practical guideposts for husbands and wives, both as spouses and as parents.
Jewish lifecycle events-naming and circumcision ceremonies, bar and bat mitzvah, confirmation, and weddings-all celebrate transitions. By becoming aware of some of the challenge you are likely to face, you will be better equipped emotionally to overcome the pressures placed on your marriage.
Critical Foundations
After the wedding and during the years before children are born is the best time to lay the critical foundation for your relationship. This precious time enables each partner to discover what is important to the other and learn to collaborate and compromise. If you want your marriage to succeed, you cannot avoid doing this work--better sooner than later.
The same skills which strengthen a marriage--understanding, respect, patience, honesty, and self-control--apply equally to parenting. Pregnancy presents an opportunity to examine what kind of parents you would like to be. Whether or not your child will be able to nurture future relationships--friendships, work, love--is in great part a measure of how well you as a couple succeed as parents and spouses. With knowledge and understanding of each other and your responsibilities, you stand a better chance of approaching the birth as a unified team.
The circumcision or naming ceremony marks a shift in the focus of responsibility. After the birth, it becomes increasingly difficult for a husband and wife to devote sufficient time and attention to their relationship. As a result, most couples encounter difficulties during the early years of parenting. For the exhausted new parents, feelings of pride and exhilaration accompany conflicting feelings of inadequacy, confusion, and rejection. Unless you talk about your frustrations, you risk alienating each other.
Throughout the childrearing years, if you are patient with yourselves and each other and keep talking about the changes you experience, you are less liable to harm your relationship and more likely to continue strengthening your marital bonds.
Handling Intrusive In-laws
The first child is born--a girl. The parents are thrilled and feel suitably overwhelmed by the newness of it all. The husband's parents live nearby. They are fearful that their daughter-in-law, although Jewish by birth, is not "Jewish enough." They take charge of the naming ceremony, which is held in their congregation. Eager to be with the baby, the grandparents get into the habit of giving the mother advice. When their son is away, they make frequent visits. The wife begins to worry about the intrusiveness of her in-laws and their influence over her husband.
Positive Approach
The couple sets limits to minimize outside interference. The husband recognizes the pressure plaed on his wife by his parents. Together with the grandparents, they establish some ground rules limiting unsolicited advice and uninvited visiting. It is clear to all concerned that the couple is a unified team. As a family, they are off to a good start.
Negative Approach
The husband thinks his wife is overreacting. She is unable to articulate her resentent calmly. He defends his parents as simply wanting to be helpful. Whenever he sides with his parents, she denigrates him. Their inability to communicate effectively hurts their relationship and places the grandparents in the middle of the conflict. The couple needs to develop understanding and respect for each other's feelings and ideas.
Bigger Children, Bigger Problems
As children grow, so do the stresses on the parents and therefore on the marriage itself. Couples are often unprepared to deal with the strains on their own relationship while simultaneously coping with the emotional volatility of their adolescent children. As teenaers search for their identity, they are likely to challenge their parents' values and assumptions, a healthy but nevertheless draining aspect of adolescence. Your marriage stands a better chance of surviving these years if you and your spouse are used to talking and reaching agreements with each other. The ability to communicate effectively will also be your best strategy for dealing with your teenager.
The bar or bat mitzvah marks the time when parents typically begin to see their child as a future adult. The event can be a catalyst to help couples talk with each other and with their teenager about the increased responsibilities and opportunities that accompany this rite of passage. Your child's sense of accomplishment and recognition provides an opportunity for family bonding just as your paths are beginning to diverge.
The success of the bar/bat mitzvah experience as well as future religious study and observance depends, in large part, on whether or not you as a couple agree on the role of religion in your lives.
How Well Does the Couple Communicate?
The spouses have different parenting styles. The husband is strict and autocratic; the wife prefers a more lenient, tolerant approach. Not only is it important to the husband that their son become a bar mitzvah, he expects a polished performance. Although the husband is rarely home, he sets strict rules about the amount of time their son should devote to his bar mitzvah studies. The wife did not become a bat mitzvah and questions whether they should put so much pressure on their son and spend a lot of money on the reception. The son continuously incurs his father's wrath by dressing sloppily and refusing to pick up after himself. He wants a big party but has been neglecting his bar mitzvah preparations.
Positive Approach
The couple talks and reaches agreement on how to resolve their differences. The husband explains to his wife why the bar mitzvah is important to him, the wife understands, and they agree on a budget for the party. Together with their son they set rules and lay out the consequences of disregarding them. They focus on one issue at a time--bar mitzvah studies and then neatness. The husband takes a more active role, nd the wife becomes less permissive. Tension is reduced because the family is able to reach agreements on priorities and rules.
Negative Approach
The family is in conflict as a result of the spouses' different views of parenting. They are unable to communicate their views and work effectively with each other and with their son. The husband does not ask why his wife objects to the bar mitzvah, and she does not tell him. She resents his lack of involvement and sides with their son when he resists his father's demands. The bar mitzvah becomes a battleground. Because the couple is not united in their approach to their child, all the relationships suffer.
Preparing to Let Go
The period following the b'nai mitzvah begins another time of transition for couples. A common problem is their teenager's reluctance to remain involved in a religious instruction program. This struggle takes place just when teenagers feel ready to make their own decisions, and becomes especially divisive if the spouses have conflicting religious expectations or have not established a pattern of Jewish observance in their home.
For the same reasons, the issue of interfaith dating and marriage may become a source of dissension within the family. Your children's selection of partners for serious relationships often reflects what they have learned from you about marriage and your commitment to Judaism. Wittingly or unwittingly, for better or worse, parents act as marriage models.
Even when there is no disagreement about the choice of mate, during wedding preparations conflicts often arise between spouses or between parents and child. To keep the event in perspective, it helps to stay focused o the message of the ceremony which, in Jewish tradition, represents Jewish continuity.
Do the Spouses Support Each Other?
The daughter decides to marry a man who is not Jewish and plans to have a judge officiate at their wedding. Her parents wish she had chosen a Jewish partner but do hot know how to handle the situation. They are disappointed that they cannot give their daughter a Jewish wedding and worry that their grandchildren will not be raised as Jews.
Positive Approach
Drawing on the tradition of partnership, friendship, and closeness developed over years of marriage, the spouses turn to each other for solace and support. Together they try to understand their daughter's decision and determine how to respond to the situation. More than anything, they do not want a breach with their grown child.
They discuss with their daughter ways in which Jewish observances can be integrated into the ceremony and their lives. The parents demonstrate their love and support but do not conceal their sadness. When the mother cries, the daughter cries with her because she understands her parents' pain and disappointment.
Despite the impending interfaith marriage, the family continues to feel close and unified.
Negative Approach
The husband and wife blame one another for not having done enough to educate their daughter as a Jew and to discourage her relationship with a non-Jew. Angered that their daughter has betrayed them and shattered their dream of having Jewish grandchildren, they reject her efforts to make peace and threaten to boycott the wedding unless a rabbi officiates. The spouses are unable to draw together for support and understanding during this difficult time. Each member of the family feels personally wounded and alone.
A Special Kind of Love
In ancient Israel, the chuppah was woven of branches taken from trees planted when the bride and groom were born. This process of intertwining in which wife and husband become stronger together than each is alone provides a metaphor for marriage itself. Over time, with hard work, patience, determination, and faith, you will find our own way--one that works for you and your spouse.
We end with some words about love:
"When getting together opens up whole new possibilities and opportunities, when tolerating differences becomes the norm rather than the exception, and when the same face looks better and better as the years pass, you can be sure you have a special kind of love."
And a special kind of marriage.