Image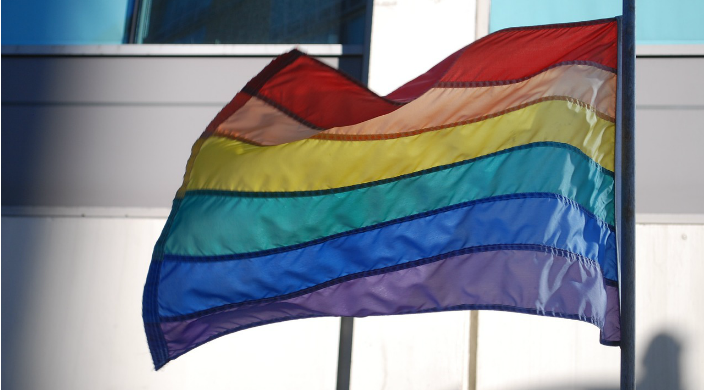 In the late 1980s, when same-sex marriage was just a dream, and no one asked for or volunteered their pronouns, friends and acquaintances who were Jewish lesbians told stories of family members sitting shivashivaשִׁבְעָהSeven-day mourning period that begins on the day of burial.  when they came out.
On my East Coast university's campus, there was both a Hillel and a Lesbian and Gay Student Alliance, but not one organization spoke to the intersection of both Jewish and LGBTQ+ realities. Into this world of ours, someone brought the news that somewhere out west, there was a gay synagogue.
The news was repeated in cadences of awe and hope. As both Jews and lesbians, this was a vitally important symbol of connection and belonging.
In times of loss and loneliness, symbols sustain us and bring us hope. For many LGBTQ+ Jews in the United States, LGBTQ+ synagogues and organizations offer that sustenance. Congregations such as Beth Chayim Chadashim, Keshet, JQ International, and Sha'ar Zahav are places where being Jewish and belonging to the LGBTQ+  community are not only welcomed, but celebrated. Here, these identities and their intersections are made central to the mission, liturgy, and practice.
Still, I have heard the question asked on many occasions in my LGBTQ+ synagogue: "In this day and age of increased acceptance and welcoming in Conservative and Reform synagogues, is there still a need for a LGBTQ+ synagogue?"          
Coming out as a member of the LGBTQ+ community means outing ourselves as different and other – outside the norms of our families, communities and the larger society in which we participate – all spaces which are majority heterosexual and cisgender. Some families and communities are capable of healthy acceptance and functioning while dealing with those differences. Most are not.
For the fortunate few, familial acceptance means keeping the traditions, connections and supportive networks we have always known and trusted. But far too frequently, naming ourselves as different means that we are expelled from our families and communities, or leave when we find that living as our true selves invites unbearably uncomfortable and dangerous responses. Voluntarily or involuntarily, we lose support networks, feel disconnected from liturgical traditions that paint us as abominations, and disconnect from family.
I was not one of the fortunate few.
While my family did not expel me, it was made unbearably clear that living openly was not acceptable. I was told that I had "gotten away with something," viewed with suspicion when small children were close, and reminded that my family's ideal reality for my life was similar to that of a gay family friend of ours, who had kept his queer life completely hidden from everyone but his mother.
I chose to leave.
The initial euphoria of living without a script is a natural high. I joyfully explored the lesbian bar and club scene, found and lost love, and served on the boards of a few LGBTQ+ organizations.  During those decades of my 20s and 30s, religious affiliation was the furthest thing from my mind – but surviving the loss of friends and family of choice, along with the impending death of my father, left me wanting a connection to my spiritual traditions.
When I Googled "gay synagogue," I discovered I lived just five minutes away from that undergraduate symbol of hope and connection, Temple Beth Chayim Chadashim. I joined and found a place where the liturgy and practice celebrates the intersection of my Jewish and LGBTQ identities.
No LGBTQ+ Jew who is embroiled in moments of loss asks if there is a need for explicitly Jewish LGBTQ+ spaces. We simply seek out their literal or figurative existence in our lives. The key difference between those seeking and those who ask whether such spaces are still necessary is that the latter group are ensconced inside the walls of belonging where we openly live the intersectionality of our Jewish LGBTQ+ identities; overall, our needs are being met.
What happens to our symbols of hope, of connection and belonging, when they become internalized? How can LGBTQ+  synagogues and organizations continue to function as symbols of belonging for those of us who are lost and alone – and simultaneously be something else for those of us who already feel like we belong? In speaking with those in their 20s and 30s who are also part of our synagogue, I hear a call for LGBTQ+ synagogues to transform into what they need in this era of greater societal acceptance.
Perhaps the question being asked is not if there is still a need for LGBTQ+ spaces, but rather what those Jewish LGBTQ+ spaces should look like. We must continue to engage with these questions; they take on new meaning in a culture where same-sex marriage is legal, when gender pronouns are increasingly announced and asked for upon first meeting, where many Reform synagogues openly welcome LGBTQ+ Jews, and when more families are, blessedly, fully accepting of LGBTQ+ Jews.