Image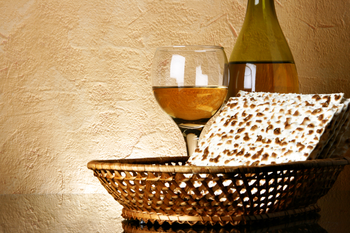 I keep track of my seders. My files tell me how many people participated (usually around forty) and what dishes I prepared (my guests have made my lamb tagine mandatory, even though lamb is scarce in Dallas, so I overnight it from New York). Of course, when it comes to keeping a record of what's eaten, I learned a long time ago that the number of servings really depends on the serving utensil. A popular dish served with a very large, antique spoon is almost guaranteed to be finished no matter how much I prepare. Still, I continue to note how much is consumed and how much is left over. A little compulsive? Perhaps, but let me assure you: having a record of the last fifteen years of seders is an invaluable tool when planning for your next one.
I also keep a list of the wines served and consumed. These statistics truly tell a story. In the early '90s we purchased mostly sweet wines-Manischewitz Concord grape wine, some of the "fancy variety" Cream-finish white wine, and a few bottles of peach-flavored white wine that my teenage son liked a bit too much. We also experimented with a few bottles of dry Israeli Cabernet in an attempt to elevate the meal to a restaurant experience-a big mistake in those days!
Today the variety of quality kosher wine is vast and as a result, the consumption of wine at my seder has grown exponentially. We still serve two or three bottles of Concord grape wine (I, personally, only fill my four cups with this icon of my childhood seders), but now the forty of us go through eight Merlots or Cabs, one or two Chardonnays, and a number of Gewürztraminer and Rieslings (for those who like their wine a little sweeter but without the intensity of the Concord experience). We try kosher wines from around the world, including Australia and Chile and Israel. This year, in a show of solidarity, we plan to buy more wines from northern Israel, especially from vineyards near the Lebanese border that sustained hundreds of Hezbollah rocket attacks, yet miraculously did not get destroyed.
Recently I had the pleasure of drinking two kosher wines that were incredibly delicious-and a bit pricey, I might add. While on vacation in Barcelona, we purchased a 2004 Capcanes Flor de Primavera, a smooth, fruity, and full-bodied red wine from the Catalan region of Spain (about $55.00 a bottle). A friend and wine consultant recommended the 2004 Cove­nant Cabernet Sauvignon (about $100.00 a bottle, less when purchased on the Royal Wine Corp. website)-a phenomenal wine which I paired with some Gorgonzola dolce drizzled with honey. In my opinion both wines are worth the splurge. And if you don't want to serve multiple bottles during the seder, invite a few friends over during the holiday. Eight days provides ample time to taste fine wine.
While Jewish tradition and custom mandate the drinking of wine on Shabbat and festivals, what is not customary in Jewish tradition is the use of wine in Jewish food preparation (other than charoset). This practice is not prohibited; it just wasn't done. Until now….
For an unforgettable Passover meal, I've prepared recipes for a four-course feast with wine-from soup to dessert. Most of the recipes have limited wine content or involve cooking the wines until much of their alcoholic content has dissipated-but the flavor is wonderfully enhanced.
Eat and drink in good health!