For more than 75 years, the Union for Reform Judaism has provided young people with immersive Jewish experiences that transform and enrich lives. Based in Reform Jewish values, these programs provide nurturing, educational, and fun experiences that promote community, enhance spiritual growth, cultivate Jewish identity, and foster lifelong friendships.
See the URJ's commitment to health and safety – URJ Youth Policies and Procedures.
Image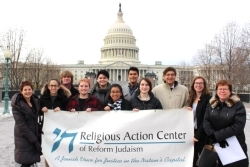 The RAC's Social Justice Seminars give thousands of Jewish teens the opportunity to impact our political process by speaking with policy makers on Capitol Hill. These weekend-long seminars are designed to expose participants to a variety of public policy issues and to explore the Jewish values that inform the Reform Movement's advocacy.
Image
RAC teen fellowship programs are learning intensives in community organizing, designed to equip youth leaders with the skills to create change in their home communities. Through our fellowships, high schoolers connect with other social justice leaders from across the country and learn lifelong skills applicable to any issue they are passionate about.