You are here
Video: How to Blow the Shofar
Video: How to Blow the Shofar
Rabbi Leora Kaye, Director of Program for the Union for Reform Judaism, explains the ritual of blowing the shofar. Theo Hansen demonstrates the shofar blasts.
Learn why Reform Jews observe Selichot on the Saturday evening prior to Rosh HaShanah.
"Basketball became a focal point of my life at school, at camp, and in my day-dreams of the future."
Find out what was hidden under the chocolates Uncle George had packed in the summer of 1937.
As summer winds down and the back-to-school season approaches, so, too, do the High Holidays. Here's how to get ready!
Whether you're a member or a visitor, familiarity with synagogue etiquette will help you get the most from your experience.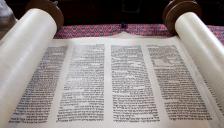 You shall appoint magistrates and officials for your tribes, in all the settlements that the Eternal your God is giving you, and they shall govern the people with due justice. - Deuteronomy 16:18
Want to explore Reform Judaism but have no in-person opportunities to study? This class is for you! Register now.
Learn why one congregation has joined 170 others to help refugee families resettle in their area.
Search URJ.org and the other Reform websites:
WRJ Shop MRC
The artwork on this note card was created by 5768 WRJ Art Calendar artist Césan d'Ornellas Levine.
$7.50/pack
April showers bring May flowers; prepare with a WRJ umbrella—now on sale!
$18 $12