Image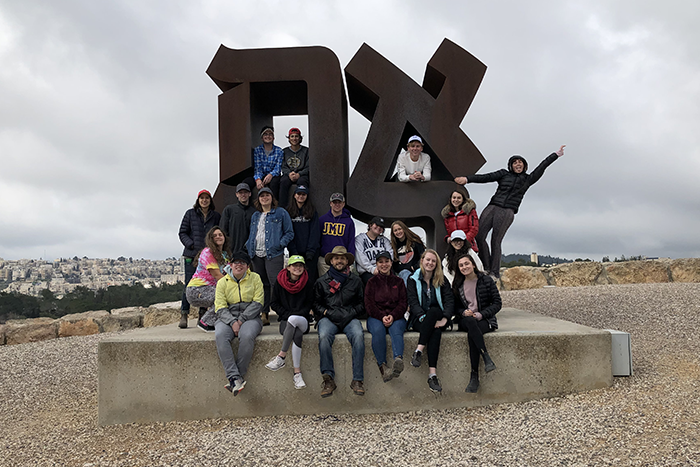 Spend the most thrilling summer of your life travelling across Israel. Learn about alternative solutions that address environmental and ecological issues. Earn high school or college credit through learning and living on a kibbutz. Travel to Prague and Poland to see firsthand how Israel has been shaped by Jewish history around the world. Engage in grassroots Jewish-Muslim and Arab-Israeli dialogue to explore conflict resolution. Connect with Israelis and learn about their lives. And the list goes on…
---
Yallah! Israel
Ages: Entering grades 10, 11, 12
Length: 4, 5 or 6 ½ weeks every summer | Dates vary by program, visit website for exact dates.
Websites: yallahisrael.org | Facebook |  Twitter | Instagram 
Yallah! Israel summer tours are for current high school students. There are currently five trip options:
Pride Adventure: Do a deep dive into Israeli history and modern society through the lens of gender identity, LGBTQ+ community, and allyship in this new 3-week adventure. 
Eden Israel Experience: Experience Israel with an eco and social justice lens! Dancing and drumming and eating and farming our way across the country, connecting with the land, its diverse peoples, ourselves and our ancient roots.
Sci-Tech Academy - Israel: A hands-on experience where science and technology meet the Jewish past, present, and future. You will explore diverse ecosystems, meet with researchers, discover new communities, experience innovation and so much more!
L'Dor V'Dor - Poland and Israel: Begin your journey exploring more than 1,000 years of our rich European Jewish heritage before traveling to Eretz Yisrael.
Adventure Israel: From ancient Jerusalem to modern Tel Aviv, travel to the beautiful Galilee and see the stunning Negev Desert.
Contact
yallahisrael@urj.org 212.452.6517
For NFTY-EIE/Heller High, please see the info below.
---
URJ Isaac and Helaine Heller High School in Israel - (formerly known as NFTY-EIE)
Ages: Entering grades 10, 11, 12
Length: 4 months | Fall (August-December) | Spring (January-May)
Websites: hellerhigh.org | Facebook | Instagram
With over 3,500 alumni since its founding in 1961, URJ Heller High (formerly NFTY-EIE) is the most experienced and most trusted high school in Israel program for meaningful Jewish learning, spiritual experiences, personal growth, and academic success. This semester-long program for Reform Jewish high school students in grades 10-12 offers an unparalleled opportunity to spend four months or six and a half weeks in the summer immersed in the richness of the land, culture, people and history of Israel. Full high school credit is available in spring, fall, and summer semesters.
Contact
hellerhigh@urj.org 212.650.4073
---
Netzer Year
Ages: High school graduates who have not yet begun university
Length: Ten months | October-June
Websites: netzeryear.org | Facebook
Netzer Year is an exciting gap year in Israel for recent high school grads in which participants live on a kibbutz, take part in hands-on volunteering in Israeli communities, travel extensively throughout the country, study in Jerusalem, interact with Israelis, and more. The program involves intensive leadership training, Hebrew and Jewish immersion studies, service-learning, and communal living.
Throughout the program, participants live, volunteer and learn alongside young Reform Jews from around the world. During the first month of the program, participants live on a kibbutz with the entire group, taking part in Hebrew studies, volunteering, touring, and experiential programs. After this, participants choose between volunteering in a community in northern Israel, or living and working on a Reform kibbutz in the Arava region. During the third section of the program, participants live in Jerusalem, choosing between one of two experiential education programs to learn about Israel, leadership, Judaism, and Zionism in a diverse community of young leaders.
Contact
Program Director: ShnatDirector.netzer@wupj.org.il
 
---
Practical Ecology at Kibbutz Lotan
Green Apprenticeship at Kibbutz Lotan
Ages: 18-30
Length: 4 weeks | Additional shorter programs, visit website for exact dates.
Websites: kibbutzlotan.com/ga | Facebook
The Green Apprenticeship is an intensive 4 week course in Permaculture design with hands-on, practical work in organic agriculture, natural building with earth & straw, and sustainable technologies that you can build yourself. Permaculture is an ethical and holistic design tool for radically efficient engineering of human settlements and caring for the environment. Join an international cohort and come to Lotan to live and have fun in straw bale domes, grow healthy food, sculpt buildings and fill your tikkun olam toolbox with valuable techniques. 
info@kibbutzlotan.com