Simchat Torah and Sh'mini Atzeret
A celebration of the completing the annual reading of the Torah.

Simchat Torah and Sh'mini Atzeret's Origins
Immediately following Sukkot, we observe Sh'mini Atzeret and Simchat Torah, a fun-filled day during which we celebrate the completion of the annual reading of the Torah TorahתּוֹרָהLiterally "instruction" or "teaching." The first five books of the Hebrew Bible (Genesis, Exodus, Leviticus, Numbers, and Deuteronomy); the handwritten scroll that contains the first five books of the Hebrew Bible. Also called the Pentateuch and The Five Books of Moses. "Torah" is also used to refer to the entire body of Jewish religious teachings and insight.  and affirm Torah as one of the pillars on which we build our lives. As part of the celebration, the Torah scrolls are taken from the ark and carried or danced around the synagogue seven times. During the Torah service, the concluding section of the fifth book of the Torah, D'varim (Deuteronomy), is read, and immediately following, the opening section of Genesis, or B'reishit, is read. This practice represents the cyclical nature of the relationship between the Jewish people and the reading of the Torah.
Historically, Sh'mini Atzeret and Simchat Torah were two separate holidays (a day of reflection after the end of Sukkot and a celebration of Torah the following day). However, in Israel and in Reform congregations, which generally observe one day of holidays rather than two, Sh'mini Atzeret is observed concurrently with Simchat Torah.
Simchat Torah Family Activities
Receive our Holiday Emails
Explore Jewish Life and Get Inspired
Thank you for signing up! We can't wait to deliver the best of Reform Jewish life to your inbox.
To ensure you receive our emails please add our domain to your list of safe senders.  
Relating to Simchat Torah and Sh'mini Atzeret
GIVE THE GIFT OF TIKKUN OLAM
Honor a Jewish hero for justice by making a tax-deductible gift to the Union for Reform Judaism in his or her name. Your gift will provide funding for creative Reform Jewish programming and help ensure the continued growth and strength of Reform Judaism.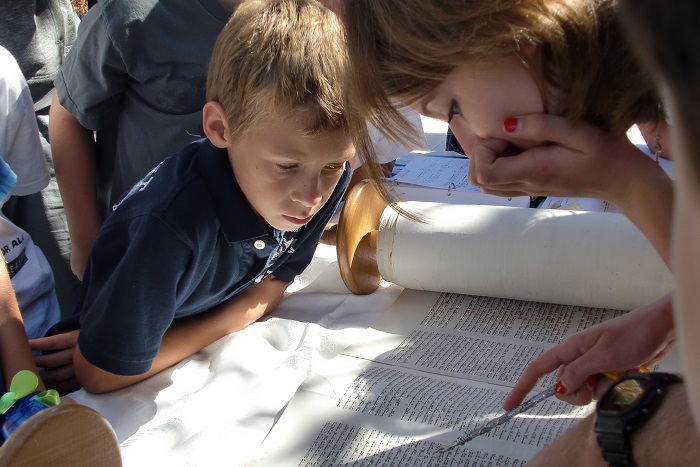 As a people with agricultural roots, Jews have found many ways to mark the seasonal and environmental changes that occur throughout the year.
What's New
Image
With every seemingly worse piece of bad news littering our social media feeds and our news cycles and in the streets right before our very eyes, it's fair to wonder: What if we simply can't be happy, even when we're commanded to? What if you just don't feel like dancing?
Image
This year, Canada's federal election will take place on October 21, at the same time
Image
In this week's Torah portion, B'reishit, we are introduced to "text painting," a basic method of trope that uses melody directly connected to the meaning of the words.