Image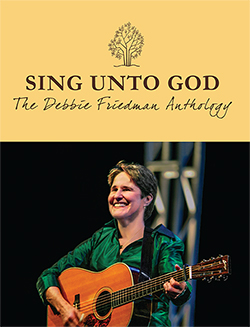 She is regarded as a prophet of our times, and as the greatest Jewish singer-songwriter in history. However you describe her life and legacy, Debbie Friedman z''l (1951-2011) gave us classic and timeless music, filled with peaceful and universal messages, that will forever be sung.
"With Debbie's passing on January 9, 2011, we lost a friend, a teacher and a colleague. A profound loss indeed," writes Merri Lovinger Arian, Faculty at the HUC-JIR Debbie Friedman School of Sacred Music in New York, and a lifelong friend of Debbie's. "For many of us, Debbie was best known as the person who penned the music that brought tears to our eyes at our daughter's bat mitzvah, our son's wedding, or our friend's funeral. Or maybe it was the music that you listened to, as you struggled through your own recovery from a grave illness. Some of us learned the letters of the Hebrew alphabet through the singing of Debbie's Alef Bet Song. Others learned about the ritual of Havdalah through her music for this beautiful ceremony. And for many Reform Jews, the Mi Shebeirach, as a prayer for healing, simply did not exist in their experience prior to Debbie's having written the music for it. Debbie's music is at the core of our collective Jewish identity – a soundtrack, if you will, for our spiritual journey as contemporary Jews. Debbie breathed new life into the liturgy of our ancestors, creating meaning and connection for countless generations. How blessed we are to be the beneficiaries of that legacy."
Rabbi Daniel Freelander, Senior Vice President of the Union for Reform Judaism and a close friend of Debbie's, spoke of the power and impact that Debbie's music has had:
"Part of the Jewish revolution of the late 1960's and 70's was a return to Hebrew as the primary language of Jewish singing. But Debbie's unique contribution was the courage to blend Hebrew and English in the same song, using spiritually clear and poetic English to bring meaning to a Hebrew text or concept. Debbie's reclamation of the vernacular to express our deepest aspirations was a tipping point in contemporary Jewish music, a profound change that has created the sound and substance of American Judaism today. My life – our lives – have been spiritually enriched by her contributions, which will continue to bless as future generations sing her songs."
Between 1972 and 2010, Debbie released 21 recordings of her original music. Whether on vinyl, cassette, compact disc, or in digital form, those recordings have been widely available and are the beloved cornerstone of many a Jewish music library. Printed music, however, has been a different story, and in recent years transcribed sheet music of Debbie's music has been nearly impossible to find. Now, for the first time, through the loving efforts of the Friedman family, Debbie's music has been gathered together in one definitive, comprehensive collection – every one of her original works, preserved just as she created them. Sing Unto God: The Debbie Friedman Anthology is a tribute to Debbie's life and music, featuring every song she wrote and recorded (plus more than 30 songs previously unavailable) in lead sheet format, with complete lyrics, melody line, guitar chords, Hebrew, transliteration, and English translation. This incredible collection of more than 215 songs was meticulously edited by Joel N. Eglash with assistance from Debbie's family, friends, and lifelong colleagues. The book includes over 400 pages of music, photographs, biographical information, memories of Debbie, and tributes to her legacy. Sing Unto God is the definitive collection of Debbie's timeless music.
The Friedman family – Debbie's mother Freda, her sister Cheryl, and Barbara and Werner Egli, Debbie's sister and brother-in-law – write, in their introduction to Sing Unto God, of preserving Debbie's legacy:
"On her good days, Debbie was self-effacing. If she could know about this project, she would be embarrassed. She would say, 'No one will want it.'

Debbie's music is the narrative of her personal journey. It is the story that should not be lost. Her music was raw. Her intimate relationship with liturgy, Tanach, and modern and ancient texts is revealed in her interpretations and melodies. She found a home for the texts and her lyrics in the music she created. Every nuance of her music and lyrics gave voice to her love for Judaism, her love for others, her joy and pain – they gave voice to the person that Debbie was and wanted to be.

Notwithstanding Debbie's feelings, we believe people will want this anthology. We believe people will want to hold onto and perpetuate Debbie's message. Over the years, there will be variations on her compositions. That will be inevitable. But Debbie's gift is reflected in the uniqueness of her melodies, original lyrics, and chosen texts. The purpose of this project is to provide people with her original works as she created them."
Debbie said in 1997, "My work is my joy. It is what drives me and keeps me alive." This collection is Debbie's final gift to song leaders, cantors, choir directors, musicians – all who breathe new life into her music, keeping her legacy alive as they sing unto God.
Steve Brodsky is a musician with the band Sababa, and was privileged to know Debbie Friedman as a colleague and friend for many years.