Image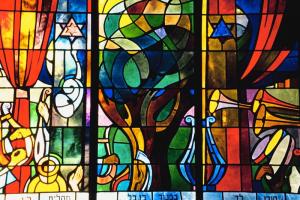 When my wife and I moved out of state, we missed our home synagogue so much, it made settling into a new place more difficult. We found ourselves surrounded by a larger Jewish community than ever before, but the result was overwhelming. There were many temples and synagogues for us to choose from, and we weren't sure where to begin. After some time, we're happy to be settling in!
If you similarly find yourself a newcomer – either to a particular community, or to the Jewish community as a whole – consider these suggestions to make your adjustment easier.
1. Look for resources online.
This one might seem obvious because, after all, you're visiting this website. It bears repeating, however, that in addition to what the broader Reform Jewish world is doing, you can often find localized information online. Temple websites often include facts about services, maps and directions, calendars for upcoming events, and information about the clergy and temple leadership. Many of these sites also list ways that you can get involved, especially if you're new to the area. Some temples have pages on Facebook and Twitter; others even provide links to watch services online. If you find there's more than one temple to choose from, websites can begin to give you a sense of what each has to offer. Find a congregation near you using ReformJudaism.org's handy location tool.
2. Place a call, pay a visit.
Even if a temple has great online resources, the best way to know what a community is like is by visiting. Before you visit, placing a phone call to the temple office can be a great way to break the ice and answer any further questions you have. Want to know what to wear? Have questions about accessibility or particular customs? Welcoming temple directors and clergy will be eager to get to know you. These resources are available to Jewish people, of course, but also to others. Curious about Jewish life at the local temple? Give them a call. Want to schedule a tour? Some temples offer opportunities for churches, bible study groups, and schools to visit and learn. Don't be afraid to reach out. This is especially true if you're visiting in person. Say hello!
3. Make a friend.
Sometimes the easiest way into a new Jewish community is with a friend. The first time I visited a temple – before I even became Jewish – I did my homework beforehand: I browsed the website, I learned about the rabbi, I even visited the temple office one afternoon to ask the director some questions. Still, I didn't want to be alone during my visit, which took place during the holidays. I brought along a few friends; in particular, one who already knew the community. If you don't know someone who can show you around, synagogue staff is often happy to introduce you to others who can be your guide. Everything's better with friends!
4. Try a few different events.
Temple communities are diverse. It's difficult to "get" what a community is all about by only trying one thing. Visit a service, come to a dinner or party, participate in a day of community action. This serves a few purposes. For starters, you'll get to experience many of the different things that help a temple to thrive, which can be especially helpful if you have more than one temple to choose from. For another, you're often introduced to fresh faces at each event. If you are visiting with your family, this also allows everyone to get a sense of what your local temple has to offer each member: religious education, social action, women's and men's clubs, youth groups, and more.
5. Find your own "way in."
The most important lesson I've learned is that each temple may be connected to the wider Reform Jewish world, but what they offer is wholly unique. No two temples are the same, even though they share common standards and values. If, like my wife and me, you've been a member of a temple before, finding a new religious home can be daunting. You may find yourself missing the onegs from your old place, or find yourself not knowing the particular melodies used during a service. Find what works for you in this new place, and embrace it. It might be services, it might be events, it might be volunteering. Whatever it is, go for it.
We're all newcomers at some point, and the beautiful thing is how Reform temples around the world work to make that process as easy and inviting as possible. Mazal tov on your journey!