Image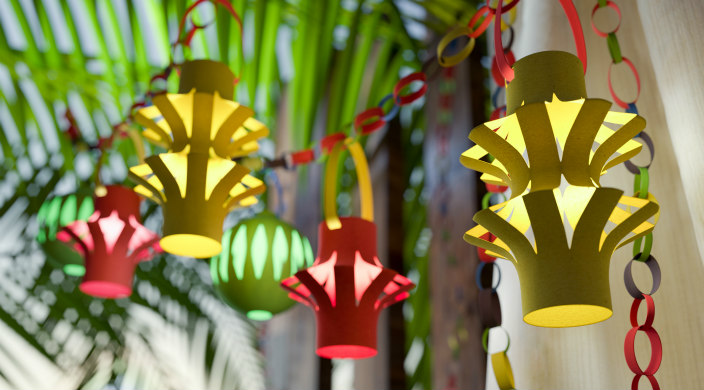 Sukkot, the Festival of Booths, begins September 20th at sundown. Jews the world over are constructing their own sukkot (the plural of sukkah), which are temporary, walled, outdoors structures with a view of the sky - and we're rounding up a few especially impressive versions. Are there any really cool ones we've missed? Comment and let us know!  
1. This photo, which originally appeared on Boston.com in 2011, shows a woman from the ancient Samaritan community decorating a Sukkah made from fresh fruit in Mount Gerizim near the West Bank town of Nablus.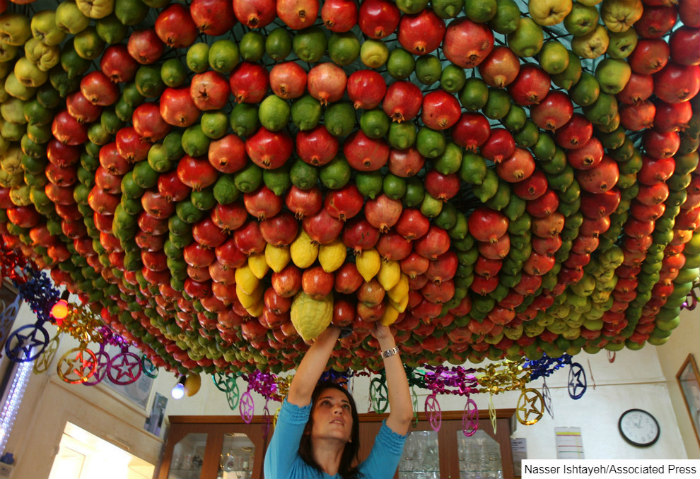 2. This twisted, abstract sukkah was the winner of the 2010 Sukkah City contest. Called "Gathering," it was designed by Dale Suttle, So Sugita, and Ginna Nguyen – and despite its unusual shape and appearance, it meets halachic (Jewish law) standards for a sukkah. It was displayed in New York City's Union Square.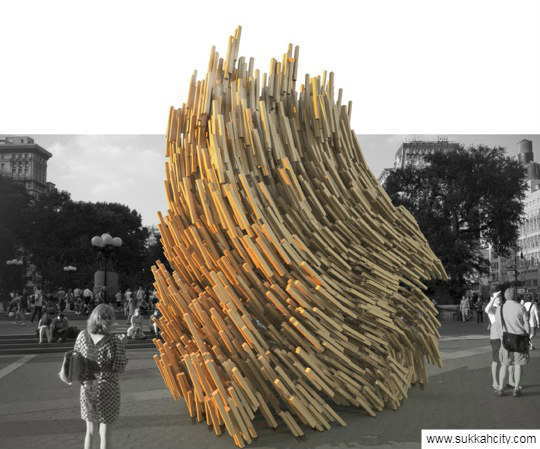 3. Can you build a sukkah on a boat? What about on the back of a camel? The staff of Neot Kedumim, described as the world's only "Biblical Landscape Reserve," displays life-size models of sukkot discussed by the ancient rabbis, alongside texts debating the validity of each.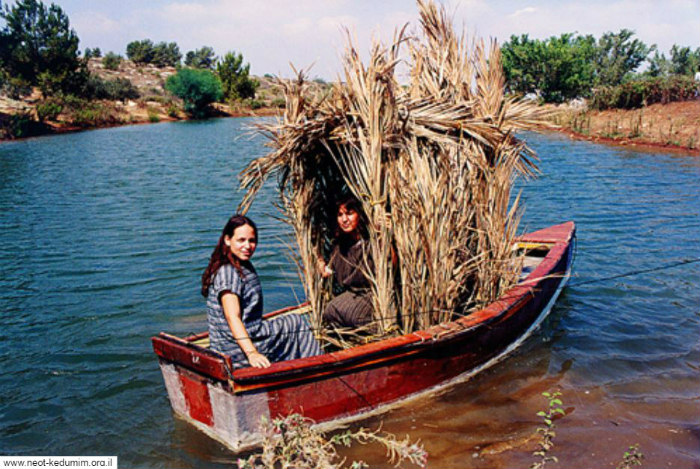 4. These sukkot themselves are pretty standard, but how cool is it to see so many of them all in a row? While Diaspora Jews may be used to seeing sukkot only at their synagogues and in the backyards of a few Jewish neighbors, scenes like this one are common in ultra-Orthodox areas of Israel.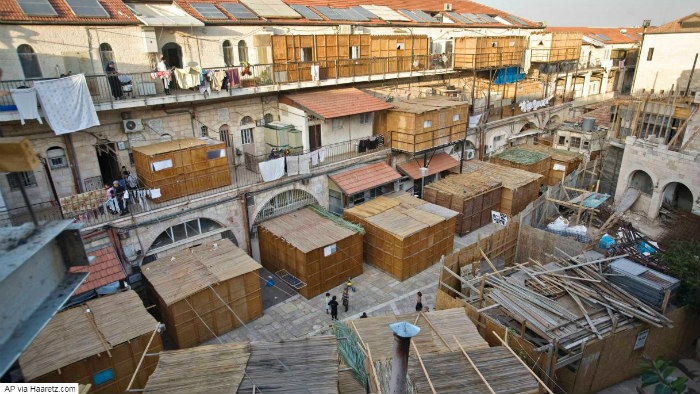 5. I couldn't find a good photo of this brightly colored Lego sukkah in Brooklyn's Boro Park during Sukkot 2015, but this video gives a fun tour of it. Wonder how long this took to assemble!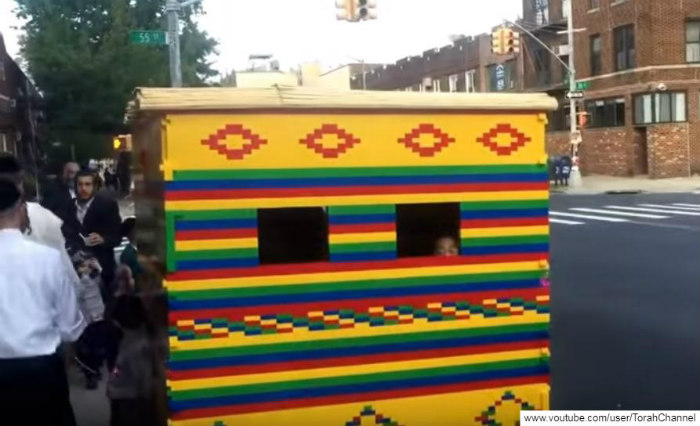 6. Who says Christmas has a monopoly on twinkle lights? This gorgeously lit sukkah argues otherwise. (Psst: If anyone has a bigger or better photo of this sukkah, we'd love to see it. This was all I could find!)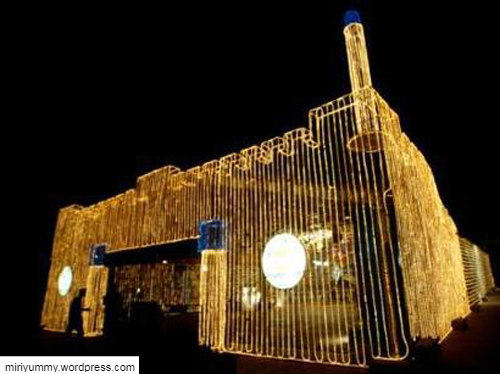 7. Most at-home sukkot are temporary, makeshift structures that look, well, temporary and makeshift – but this ornate sukkah at the residence of Avram Davis and Sarah Sheindelman in Berkeley, CA, takes sukkot to the next level. I've lived in apartments smaller than this beauty!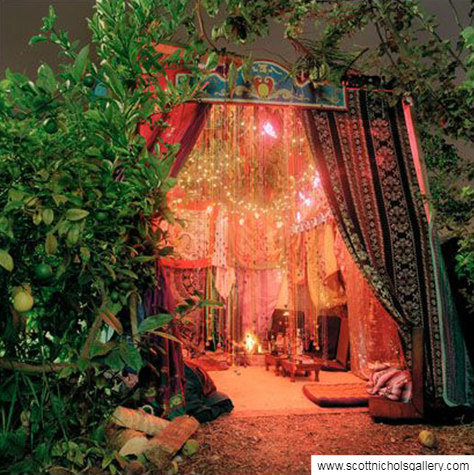 8. The Forward reports that in 2011, the Jewish Monkland Centre in Montreal created its unusual "World of Peace" sukkah using 290 cardboard boxes, 24,000 staples, and tons of recycled material. Nineteen languages are represented on the writing around the sukkah.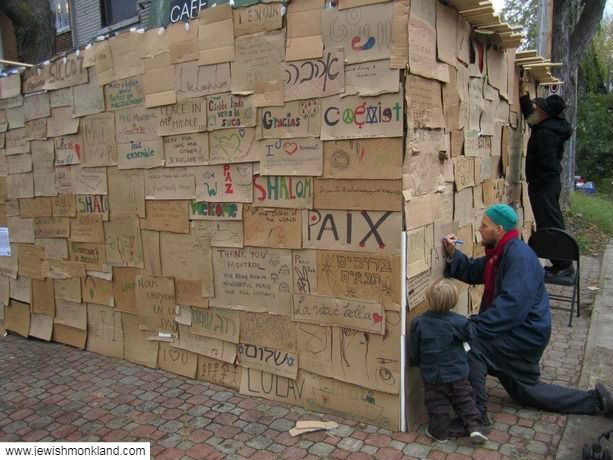 9. Property is New York City doesn't often have space for backyard sukkahs, but in 2014, Google made use of its balconies and constructed not one but two structures at the company's headquarters in Chelsea.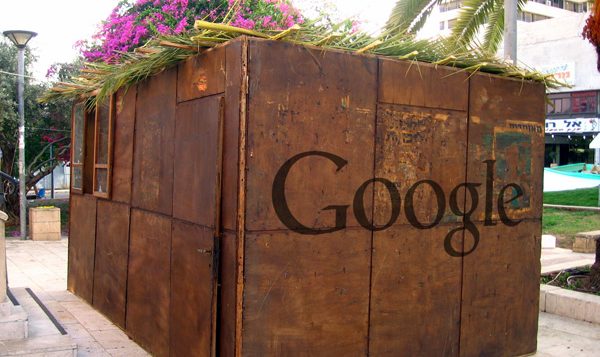 10. Congregation Beth Elohim, a Reform synagogue in Brooklyn, NY, is known for constructing creative sukkot each year. In 2012, architects created a structure made of shelving units and bamboo. The shelving units, Patch.com reports, were "filled with notes, stories and drawings from people who stop by and write or draw whatever they want on a piece of paper."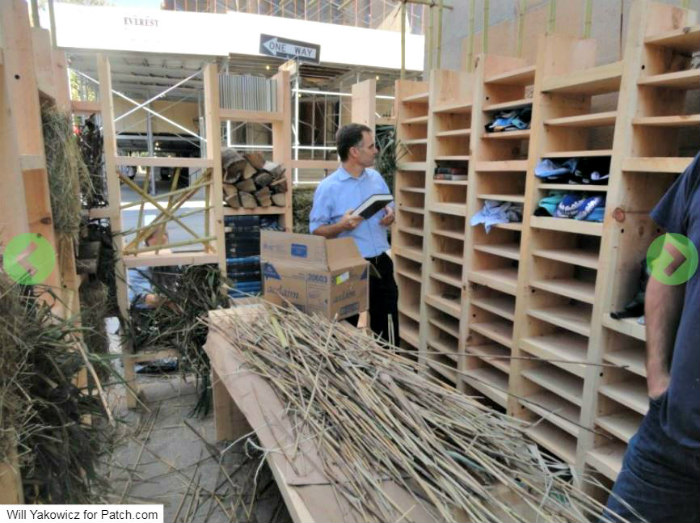 11. Swiss Family Robinson with a Jewish twist? Blogger Laura Mernoff posted this photo in 2006 with the simple caption, "Sukkah in a tree" – but we're dying to know more about this cool, up-in-the-air structure that taps into childhood nostalgia!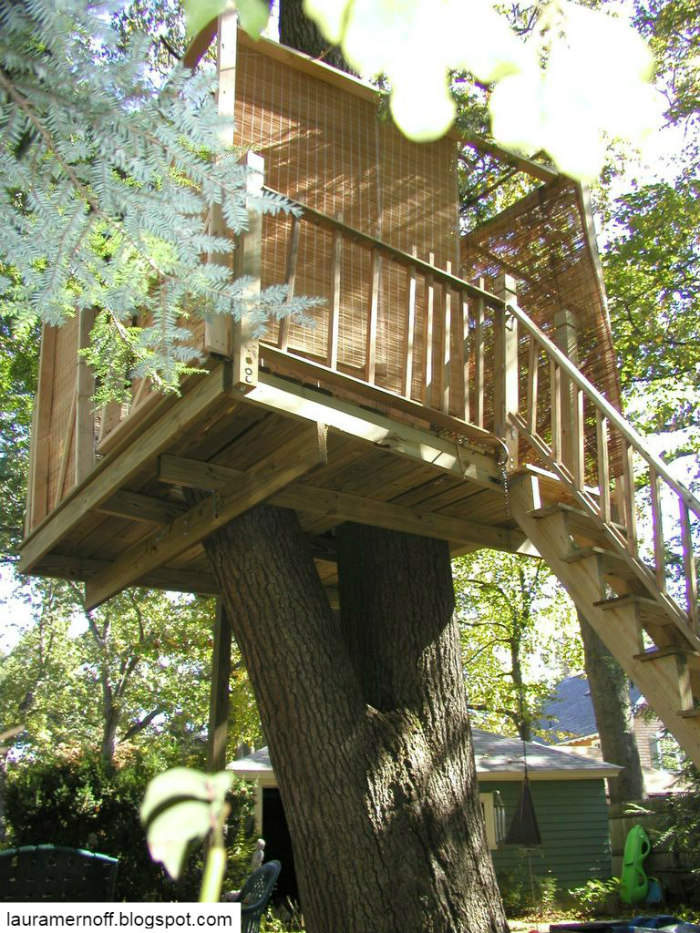 Share a link to or photo of your sukkah in the comment section below. We want to see what you've created! 
Related Posts
Image
When Aly Silverberg (she/her) started a Jewish meme account on Instagram, she never expected it to go viral - or for it to have such a big impact on her life and career. She certainly never expected it to reach tens of thousands of other Jews!
Image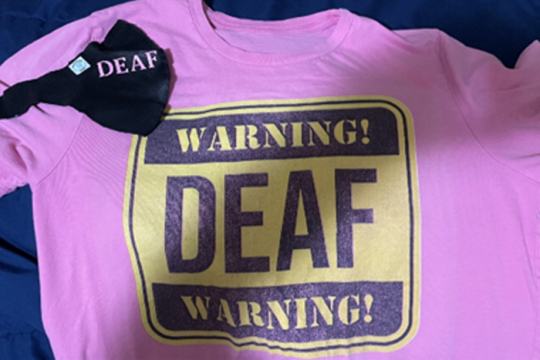 Living most of my life in a hearing world – as a not-fully hearing person – has been my "normal" living experience. I don't know any other way of being. I suspect there is a different way of living because everyone around me tells me so – they imagine that my life must be so hard, how I must cope (what are my choices??). At one point, I tried to connect to the Deaf community. Between not being fluent in American Sign Language and being able to live in the hearing world, I didn't feel welcome – although I learned a lot about myself as a less-than-fully-hearing person in a hearing world. A few years ago, when I went from hard of hearing to deaf, I decided that I would be just that, "deaf" without the capital "D". I am now a deaf person living in a hearing world (as opposed to a Deaf person with connections to the Deaf community).
Image
Last year was my first time celebrating Passover and one of the first times I sang with the congregational choir. One of the songs we performed for the seder was "Dayenu." The choir director explained during practice that in Hebrew, "dayenu" means "enough." I loved the melody of the song and found myself humming the tune as I prepared for Passover.