Image
I can't seem to find a starting place in writing my reflections of Rosh HaShanah. It has become a tangled ball of string, and I'm not able to coax out a single strand. I thought about starting at the end.  I could, but I don't know what that is either.  So, I pick one shiny thread to start, and let's see where it leads.  Perhaps it is a beginning, though more likely, it will be a middle.  There are many more middles than beginnings in this tale.  
Nonetheless, the first thing is redemption.  It's all about redemption.  My redemption, to be exact.  And my fear that I will never find it. It's about God, too.  And my quest for God.  And my fear that I will never find God or forgiveness.  And my fear that I will never be able to forgive God.  The pain of this fear is almost unbearable.
I spent a couple of decades denying God and redemption both.  That pain was unimaginable. It is my greatest longing: to be redeemed.  Forgiven.  To dance in the palm of God's hand.  To believe, if even for an instant, that I may find a small piece of it, and that that may be enough.
Fitting thoughts for Rosh HaShanah. Such a busy day: the Book of Life and Death is opened and the Gates of Justice swing wide.  It's the birthday of the world.  Today, we stand with awe, undertaking the breathtaking majesty of diving inwards. Eventually, we shine our lights and illuminate all the beauty, all the pain, and all the hope and need we find inside.
This is Rosh HaShanah: redemption and majesty and reflection and God.  It is joy and celebration and hope and...
Whatever it is, whatever the ritual and tradition have become, what today is, what today will ever and always be, is my brother's yahrzeit.  No matter the celebration or the yearning; my heart hears a steady murmur of "today is the third anniversary."  Like last year and the year before, this thought drowns out the music and prayer and the sounding of the shofar that opens the Book and flings wide the Gates.  All I hear is the steady cadence of "This is the anniversary of his death."
This is one of those days on which I am less forgiving of God.  And this is the second thing.
I know - absolutely - that God is not at fault in this.  God didn't set the butterfly's wings flapping that ended in the hurricane of my brother's death.  There was no Divine Plan.  Randy smoked four packs of cigarettes a day, existing on caffeine and nicotine.  He was diagnosed with Stage 4 metastatic lung cancer when he was 45, and died when he was 47.  Not a day goes by that I don't miss him, though I don't think of him every day like I did.  I feel the ache of his loss like a stitch in my side, initially sharp and hot, eventually receding into a dull throb until it is more memory than real.  
But he died today, three years ago.  On Rosh HaShanah, a day of pomp and circumstance and joy.  I was with him when he died, literally as the shofar sounded down the hall from his room.  So the Book was open and the Gates swung wide and my brother died, all in the space of tekiyah.  So suddenly, today has become hard.  And suddenly, I am less forgiving of God.
And for all of that, when I stood in prayer and my knees began to buckle from the weight of my sorrow, there were hands that reached out to hold me steady, and strong arms to carry me to firm ground.  When I demanded of God:  Where the hell are You?  God answered:  Here.  No farther than the nearest heartbeat, in the still small voices of all those around me, who showed me, again and again, that I was not alone.  Even in my pain, even in my doubt and despair, I was not alone.
And so, the third thing: Redemption.
I started there.  Perhaps that hopeless mess with which I began was less eleventy-seven different things and more reflections and variations on a single strand.  I have spent a lifetime yearning for redemption.   And the thing I come back to, again and again, like a gift of impossible and breathless wonder is this:
It is not what I pray that matters.  It is that I pray.
For all my longing, what I don't realize is, I am redeemed.  I have not been abandoned by God.  Neither have I been forgotten.    David had it right in the psalms: we cry out to God and we are healed.  He didn't say "God only hears the pretty words. Speak only of love and praise."  No, it's pretty clear: we find healing and redemption because we cry out.
In my faith, in my prayer, I am given, again and again, grace.   I get strength and courage to face what life has placed in front of me in that moment...even if that thing is the death of my beloved brother.  My faith is not a guarantee that I will never know fear, or that only good and happy things will happen.  My faith, my prayer, allows me to put one foot in front of the other and know that I will be carried through.  And in that exact moment, the moment I take that step, I am enough and I am redeemed.  And in that moment, I dance in the palm of God's hand.
For my brother, Randy, z'l.
May we all dance in the palm of God's hand.
L'shanah tovah u'metukah.
May you have a good and sweet year.
Stacey Zisook Robinson is a member of Beth Emet The Free Synagogue in Evanston, IL, and Congregation Hakafa in Glencoe, IL. This post was adapted from one that originally appeared on her blog, Stumbling towards meaning:  Stacey's Blog.
Related Posts
Image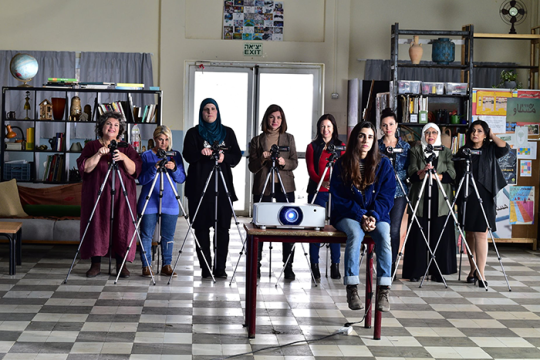 Both Arab and Jewish, young and old, the women of "Cinema Sabaya" learn about much more than filmmaking during the class; they discover that their differences are far outweighed by their bonds as women making their way in a patriarchal world.
Image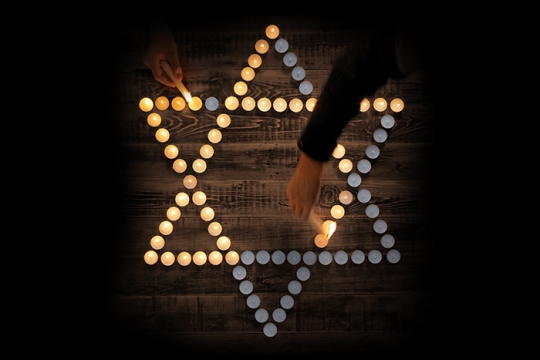 What does it mean to remember? It is to live in more than one world, to prevent the past from fading, and to call upon the future to illuminate it.
Image
A camel carrying a load. A golden pair of balanced scales. An open heart and an open mind. These are three of more than two dozen artists' visions of justice and righteousness featured in the invitational exhibition, "Tzedek Boxes: Justice Shall You Pursue."