I'm 3 years old and moderately hard of hearing, but still able to hear my mom sing Shalom Aleichem to me to get me to sleep. I'm in a nursery school affiliated with a Reform synagogue in Baltimore, singing along to "We give thanks to God for bread" and listening for hours to the Home Start tapes the old Baltimore Board of Jewish Education put together for Jewish families in the area. Everything is going well until one morning I wake up completely deaf. I'm 5 years old and now profoundly deaf instead of just hard of hearing. Now what?  Will I still be able to go to Hebrew School, have a bat mitzvah down the line, my parents wonder? Meanwhile, I'm upset with God and ask my mother, "Why did God make me deaf?"
It has now been 30 years since I lost all my residual hearing. I have never let my deafness stop me from anything, even from particapting in the Jewish community. My parents made sure I learned to speak, read, and write Hebrew and reinforced at home what I learned in Hebrew School at our synagogue. They encouraged me to recite the Shabbat blessings at our Friday night dinners and participate in Shabbat and holiday services at synagogue.
When it came time for my bat mitzvah, there was no question that I would chant from the Torah and lead the congregation in prayer, from the Yotzer straight through to Ein Keloheinu, just like my hearing peers. As it turned out, my bat mitzvah was on Simchat Torah.... which meant I had two Torah portions to learn to chant, instead of the usual single portion! That would be daunting for any 13-year-old, much less a deaf one with a single hearing aid, but I met the challenge, with the help of my rabbis and the local b'nai mitzvah (bar/bat mitzvah) tutor. Almost 25 years later, it remains one of my proudest achievements.
As a teenager, I joined MAFTY, now NFTY-MAR; while it could be difficult socially for me at times and I had trouble following along with what was being said in group discussions, I still managed to make friends, learn more about Judaism, sing my heart out in song sessions, be moved by Shabbat services, and even be Social Action Vice President of my Temple Youth Group. In college, I helped found a KESHER chapter and compiled and led NFTY-style Shabbat services.
As a graduate student with a newly activated cochlear implant, I found myself leading about 100 undergrads in a song session after Shabbat dinner at the local Hillel one night. As an adult, I've led services at a local chavurah I belong to, and even on a cruise ship in the Mediterranean. Let me tell you: Leading a standing-room-only library full of Australian, British, and American Jews in a Reform-style Shabbat service, along with a Chanukah candle lighting, while sailing out of Egypt (talk about the Exodus from Mitzrayim!) en route to Italy is a really, really surreal and amazing experience.
My mother, who thought I would grow up to be a rabbi, would have been proud. I am truly blessed and proud to be part of such an inclusive Jewish community, with wonderful, caring clergy, that has enabled me to learn about and practice my religion despite my profound hearing loss. However, it has not been without its difficulties, and we as a Jewish community still have a long way to go. For example, I have had to fight for oral interpreters to be provided at synagogue-sponsored lectures and at Jewish adult-education classes, and many times my requests have been denied. Area synagogues have not been accessible – one has a very dark sanctuary with poor acoustics, which makes it difficult to see or hear the rabbi and cantor; another has a sanctuary that echoes and does not appear to have a telecoil loop, which makes it impossible to hear voices over the microphone without interference from the background noise.
On this first Deaf and Hard of Hearing Awareness Shabbat, I hope we will all heed the words of Leviticus 19:14, "Do not curse the deaf or put a stumbling block in front of the blind." Let us all – rabbis, cantors, lay leaders, congregants, educators, and so forth – take steps toward creating a more inclusive community by ensuring there is funding to provide oral or sign language interpreters; providing interpreters upon request; improving synagogue lighting; installing in our sanctuaries telecoil loops and/or modern assistive listening devices that can be utilized by hearing aids and cochlear implants alike; and, most importantly, being supportive of our deaf and hard-of-hearing children and adults and being understanding of their communication needs.  As the Torah teaches, we are all created b'tselem Elohim, in God's image.
Related Posts
Image
The Passover seder is about telling our story, which is often done by communally reading the Haggadah, a written collection of stories, rituals, and commentary. Without accessible options, people with various disabilities are prevented from fully participating in the seder.
Image
Throughout the Torah, we are instructed to move through the world with an extraordinary degree of mindfulness to the experience of others; we, too, were slaves to Pharoah in Egypt. We, as Jews, are implored by the divine to notice that which others might not observe and to advocate for one another because we know what it is to be somehow exceptional.
Image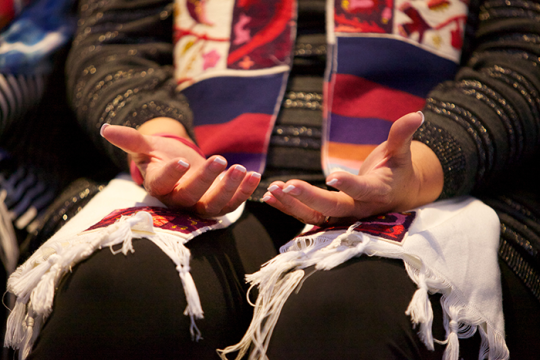 My Hebrew name is Emunah, and I have autistic spectrum disorder (ASD).