Image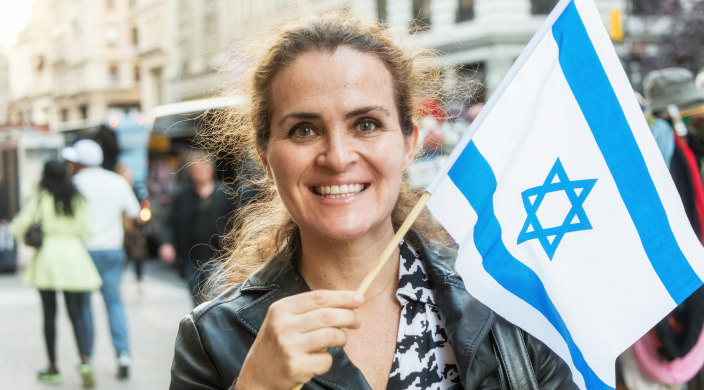 Here we go again. Back at it. Another election in Israel, and pessimism is running high here. The odds appear low that the polls will yield politicians willing and able to create a new government.
When we Israelis go to the polls on March 2, the World Zionist Organization (WZO) – your election for the future of Israel – will have entered the last 10 days of polling. Regardless of whether Israel succeeds in getting a functioning Knesset out of our elections, the global WZO election will indeed yield results – the delegates to the 38th World Zionist Congress (WZC).
Yes, you have a vote. And it's an important one.
The irony is stark. For once, your vote as a non-Israeli living outside of Israel may have more lasting impact than my vote as an Israeli living in Israel. That's because regardless of what happens in Israeli elections – whether we get a new government or not – the WZC will meet in Jerusalem later this year.
The WZC, the Parliament of the Jewish People, meets every five years. Your vote will help apportion the 500 delegates. It matters.
As Rabbi Lea Mühlstein recently wrote on ReformJudaism.org, "Every vote for the Reform Movement in World Zionist Congress elections will directly strengthen our ability to fight for an Israel that reflects our Jewish values and fully recognizes our way of being Jewish. Every vote for the Reform Movement will ensure that our voice in Israel will be heard that much louder and clearer."
Perhaps louder than any of our voices here, at least when it comes to the future of liberal Judaism in Israel.
So I repeat the plea – and the offer – that I made before Israel's second recent election, the one last September. It's the one I made confidently speaking for Reform and Progressive Israel-Americans living in Israel. (See "Why Liberal Israelis (Like Me) Need You.")
Our promise: to vote our conscious as liberal Jews in the Israeli elections, as Reform and Progressive Jews expressing values core to the Reform Movement. To vote only for a party that stands for religious pluralism and social justice.
What we ask: that you vote in the WZC elections, so that our shared values have a large and robust voice in this critical convocation.
Be clear. This is personal. This is about protecting Reform institutions in Israel. It's about the role of liberal Judaism in Israeli life. It may be the most important thing you do for me, for other Israeli liberal Jews, and for Reform Judaism here.
So stop reading immediately. Go vote now. I'll wait.

"It will not be possible to solve all of Israel's challenges through the Zionist Institutions, but this is the only political table in Israel where we, as Reform and Progressive Jews, sit as equals," Rabbi Mühlstein wrote. "Having a strong representation and being able to build coalitions with other partners allows us to advocate for an Israel, which reflects our Jewish values."
Here's what's at stake, according to the Union for Reform Judaism's Inside Leadership blog: "A strong election turnout among North America's Reform Jews and our supporters and allies will ensure that financial resources will continue to flow to our Israeli movement – including Reform congregations and institutions. It also will allow the progressive Jewish movements to fill leadership positions in some of Israel's national institutions, including the World Zionist Organization, the Jewish Agency for Israel, and Keren Kayemeth LeIsrael - Jewish National Fund."
And it's more than that. These are the seeds of further growth and strength for Reform and Progressive Judaism in Israel.
"We have an opportunity to use the vehicle of the Congress to make a serious impact, one we cannot afford to miss," wrote Rabbi Josh Weinberg, executive director of the Association of Reform Zionists of America, on a Facebook thread. "Our success in the elections will be an extremely important statement attesting to the Reform Movement's strength and our desire to be part of the Israeli political discussion."
The bottom line: Reform Jews in Israel will stand up to represent the Reform Movement in Israeli elections. As Reform Jews in the U.S., you must represent us in the WZC elections.
We need each other: We vote here; you vote there. Vote Reform in the World Zionist Congress elections. Voting is now open. Any Jew over the age of 18 is eligible to vote.
Let's make that pledge to each other. (And if you're still reading, and haven't yet voted, go vote. Really. Right now.)
Here's a "Prayer for Political Leadership" to encourage us all:
For Political Leadership
God of history,
We yearn for [new] leadership,
For individuals of inspiration and insight,
Visionaries to build nations and communities
In Your image,
Stewards dedicated to justice,
Unafraid to face the challenges of our day,
[In particular, the challenge(s) of
_________________________,]
So that our cities and countries resonate with
Compassion and health,
Justice and mercy,
Kindness and peace.
Bless our leaders
With dedication and foresight,
Fortitude and imagination
To solve the complex issues that threaten our future.
May they lead us to a time when neighbors embrace
And the communities thrive,
A time when liberty and equality
Reign supreme.
Source and Shelter,
Grant safety and security to all nations and communities,
So that truth and harmony will resound
From the four corners of the earth,
Let the light of wisdom
Shine brightly in the halls of power,
A beacon of hope
For every land and every people.
© 2015 Alden Solovy and tobendlight.com. All rights reserved.
Related Posts
Image
There are a few days in my life that stand out. There are the big milestones: my first days of school, going to camp for the first time, and my first homerun. Another one of those dates that stands out is December 28th, 2015. That was the day that I made aliyah and became an Israeli citizen.
Image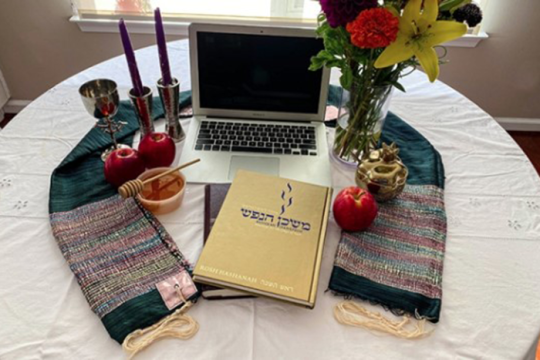 As I boarded the plane to Israel in the summer of 2002 for my first year of rabbinical school at HUC in Jerusalem, my mother said, "Please, just don't meet an Israeli." As soon as the plane touched down at Ben Gurion airport, I knew that I was home. A few months later, I met that Israeli. From our first conversation, he understood that I was studying to be a rabbi, and I understood that he wanted to live only in Israel.
Image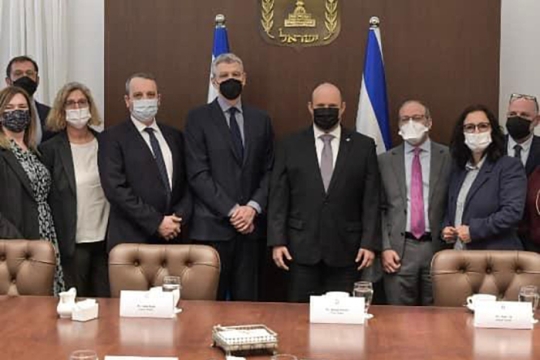 In meetings with the President of Israel, Isaac Herzog, Defense Minister Benny Gantz, Finance Minister Avigdor Lieberman, Transportation Minister Merav Michaeli, and Foreign Minister and Alternate Prime Minister Yair Lapid, we discussed the crisis in Ukraine, the future of the Kotel, ensuring more funding and rights for non-Orthodox Jews, combatting racism, and stopping extremist violence against Palestinians, in addition to other pressing issues.