Image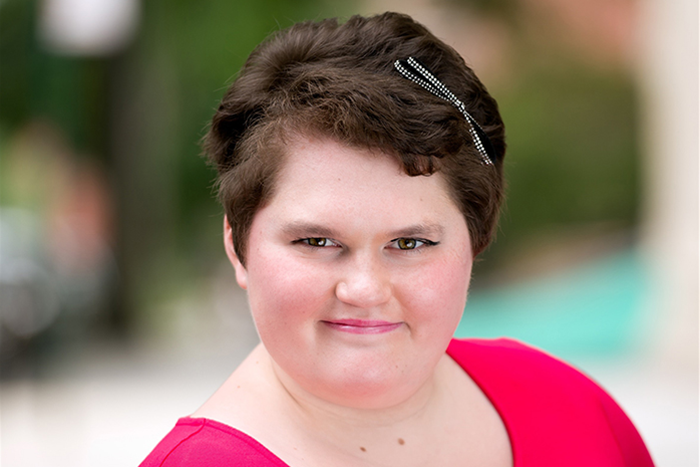 "I don't need their good opinions,
I have plenty of opinions.
Everybody has opinions, but it doesn't make them true
What's true is being me,
And I'd rather be me.
I'd rather be me than be with you."
- "Rather Be Me" from Broadway's Mean Girls
Twenty-year-old Shayna Goldberg is a young adult songleader and performer with EPIC Players, a New York-based nonprofit theatre company that opens the stage to all types of artists and seeks to shine a light on neurodiverse talent. Along with her family, she is a part of the Adath Emanu-El community in Mount Laurel, N.J.
As a teen, Shayna attended URJ Kutz Camp, a Reform Jewish leadership camp, as part of the Gibush program for Jewish students with autism. She later participated in the camp's songleading track and the NFTY Nashir Songleading Institute.
We spoke to Shayna and her mom Laura about her love of music, her songleading background, and some of her most moving performances.
ReformJudaism.org: Where does your love of singing come from?
Shayna: I started singing when I was 6, and I've continued up until now.
Laura: Shayna sang before she talked. She did her first talent show in elementary school - probably second grade - when she got up with a pink guitar and sang Miley Cyrus's "The Climb." The crowd went wild. At this point, she's been taking singing lessons for a very long time.
Who are your musical influences? What about Jewish music influences?
Shayna: Miss Kristine Biller, she was my first voice teacher before she moved to Alabama. Now, I love singing with EPIC Players' Broadway guests because they know how to sing with me - and I love Broadway music and performing the best.
My Jewish influences are you, Cantor Rosalie Will, along with Cantor Ellen Dreskin, Dan Nichols, and Josh Nelson. Oh, and Debbie Friedman, of course!
When did you begin songleading, and what is your background?
Shayna: I took the songleading track at URJ Kutz Camp for three or four years, and when I left camp in 2018, I started songleading.
I've participated in lots of Nashir programs with Alan Goodis, and I went to a songleader boot camp. This year, I plan to go to Hava Nashira, the Reform Movement's Jewish music and worship conference.
Laura: Shayna has always been musical, and she loved the whole camp experience. She went to URJ Eisner Camp and did a special needs camp one summer, and she's performed in all the plays our local Jewish community center.
She's had so many great musical experiences, both at camps and at school. Everywhere she's performed, people love her.
What's your involvement in your synagogue?
Shayna: Right now, I lead songleading in K-1 and third grade. I also help out with t'filaht'filahתִּפְלָה"Prayer." . Lucas Bennett (the other songleader) and I love to sing to the kindergarteners. They're so well-behaved, and they love to sing!
Laura: Shayna also sings at the third Friday of the month with Lucas and Cantorial Soloist Sandy Messinger-Aguilar, and she co-leads the synagogue's special needs services with Rabbi Ben David.
Shayna: I love the opening and Shabbat songs, like "Hinei Mah Tov" - the one where everyone repeats after you. I also like the closing song, "Od Yavo Shalom Aleinu."
Laura: This past High Holidays, she wanted to sing "R'tze" by Stephen Richards. It's such a serious song, but Cantor Sandy has known Shayna since she was young, so they decided to let her sing it. She did such a beautiful job on Rosh HaShanah evening that she was asked to sing it again on the morning of Yom Kippur.
What can you tell us about your experience with EPIC Players?
Shayna: You have to audition for the group, and I've been part of it for three years. It's in New York City, with locations in Brooklyn and Manhattan for times when we need a studio.
Tell us about your EPIC Players performance of "I'd Rather Be Me" from the Broadway show Mean Girls, which you sang with another performer.
Shayna: That was part of our spring cabaret, EPIC Sings for Autism: Songs for a Post-Covid World, a fundraiser on Zoom. I sang with Broadway performer DeAnne Stewart from Jagged Little Pill.
I'm curious about the song when you give everyone the middle finger! Is that something that your peers find offensive or empowering?
Shayna: [Laughing] Oh, no, we found it empowering! I had no worries about doing it.
Laura: At the Doug Flutie Jr. Foundation for Autism's Holiday Special, they sang it as part of a medley. Because it was a more family-friendly show, they changed the words a little bit.
That medley also featured "If the World Only Knew," a song Shayna previously sang at Lincoln Center's festival for young adults with autism and other developmental disabilities. The director of EPIC Players wrote it for the autistic community, and he just hit it on the head with this song. Shayna sang it nine times, and I cried at seven of them.
So what's next for you? What do you see for your future?
Shayna: I could still be a songleader. I think trying to be a cantor is hard, but I would like to reach for that, to be a songleader.
First, though, we're auditioning for the spring cabaret. The theme is heroes, so I'll be trying out to Mariah Carey's "Hero."
Learn more about EPIC Players and watch performances from Shayna and others.
Related Posts
Image
A camel carrying a load. A golden pair of balanced scales. An open heart and an open mind. These are three of more than two dozen artists' visions of justice and righteousness featured in the invitational exhibition, "Tzedek Boxes: Justice Shall You Pursue."
Image
As 2022 draws to a close, it's time to highlight some of the best Jewish content of the past year. Art, marriage, coming of age, healing, history, and antisemitism are all on display in a year that has had its fair share of public tumult.
Image
Two films from acclaimed Jewish filmmakers have debuted during award season this year, each taking semi-autobiographical looks at troubled childhoods. Each picture delivers award-worthy performances from many well-known actors, including Anthony Hopkins and Michelle Williams as sure bets to score Oscar nominations.