Image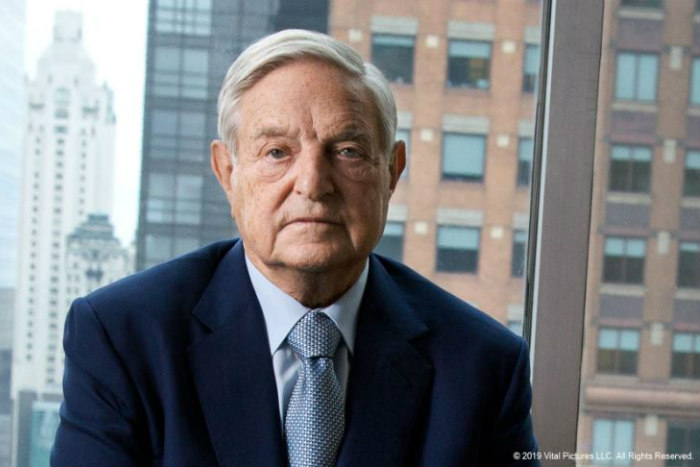 Comedian-provocateur Sacha Baron Cohen performed at a stunt far-right rally in Olympia, WA. He got the crowd to sing along to racist, hateful lyrics about Dr. Anthony Fauci, Hilary Clinton, and, in one particular verse, "CNN, they spread the fake news, they're controlled by you-know-whos — George Soros and his nasty friends."
Cohen has always had a way of tapping into the troubled psyche of a certain segment of America, and it's not just Americans who are preoccupied with the Jewish billionaire businessman and philanthropist, George Soros. All over the world, Soros is regarded by right-wing conspiracy mongers as the bogeyman, evil incarnate, spawn of Satan himself. A new documentary about the life of George Soros by Jesse Dylan cuts through the hysteria surrounding one the world's most maligned figures.
Soros opens with a torrent of talking heads. He's called pro-Islamist, the world's biggest drug trafficker, and depicted with the fiery red eyes of Sauron, the villain from the Lord of the Rings movies. After flashing through the negative images generated by his detractors, Dylan cuts to Soros's childhood in Budapest, Hungary.
As the fascist threat looms, Soros's father realizes that he'll have to obtain fake papers identifying everyone in the family as Christians in order to survive. The plan works; they survive the Germans, then the Soviets. George ultimately goes to school in London before immigrating to the United States, where he says he set out "more to make money" than anything else.
Soros attributes his financial success to his father's "always being ahead of the crowd. I had this flexibility in my thinking… If I see a lot of sheep running in one direction, I'm likely to think, let me look in the other direction. What are they running from?" In one single day, betting against the Bank of England, Soros staked his entire fortune buying and selling British pounds. He came away with a billion-dollar profit and overnight was one of the richest men in the world.
Through the testimony of his children, we learn that he was overworked, stressed, on the brink of divorce, and perhaps worst of all, bored. At the age of 50, Soros makes a dramatic pivot in his life, away from adding to his fortune and instead giving it away to an ever-expanding number of charitable causes.
The second half of the film details his work fighting apartheid in South Africa and his instrumental role in defeating communism in the Soviet Union, East Germany and elsewhere in Eastern Europe. He then turns to American domestic issues, from drug policy and criminal justice reform to gay, immigrant, minority, and women's rights — battles that would bring him into the crosshairs of the political right.
In 88 minutes, Dylan takes on the insurmountable task of covering the life and controversies of someone who has lived through what seems like a thousand lives and a million battles.
He does so by delivering digestible bites – through interviews, talking heads, and archival news footage. It's a credit to the director that he allows Soros's family and Soros himself to have much of the runtime. Soros tells us:
"I was playing the market to win, make money, and I got very involved, and there was a moment where I thought I was going to have a heart attack. If I die now, I lose, but if I get blown up fighting for an open society, I don't think I lost. I'm willing to stake my life on that."
These insights coming from the man himself provide us with a sympathetic portrait of who Soros really is and what he stands for.
And what about his role as a foil for the American right and right-leaning governments around the world? How his Jewishness, his wealth, his personality, and pursuits all intersect with the last 30 years of global history could take a miniseries to fully unpack. The film does try, tracing his activism with the rise of authoritarian rulers like Vladimir Putin, Bashar Al-Assad, and Rodrigo Détente. It even chronicles his misplaced backing of Myanmar democracy icon, Aung San Suu Kyi, now accused of complicity in genocide. In one of the film's more probing moments Soros considers his campaigns and concludes:
"…I discovered that several of them actually did succeed, but what came out didn't really resemble what I was hoping for. [It's] characteristic not just of my philanthropy but of all human endeavors."
In portraying Soros's outsized impact on the world, Dylan zeros in what has motivated his subject's activism. Soros asserts that he wants to make the world a better place. The Jewish term for that ambition is tikkun olam, to heal the world.
Ultimately, Soros gives us the measure of an almost mythic figure. Born in the shadow of the genocide, rich beyond belief, world crusader for justice, and object of hatred and defamation by the engines of right-wing international propaganda, George Soros is not deterred. At the end of the film, the screen is filled with the myriad causes he continues to support around the globe.
Soros opens on November 18. Visit sorosfilm.com.
Related Posts
Image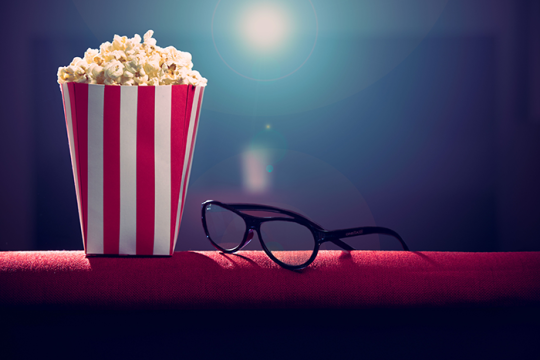 Two very different Jewish films have emerged on the 2023 late summer film scene. One depicts the trials and tribulations of a 75-year-old legislator during the greatest crisis of her life, the other portrays a 12-year-old girl on the cusp of adulthood.
Image
As we are amidst the season of new beginnings - new Jewish year, new school year, and new Torah cycle - we have a wonderful opportunity to explore the many Broadway composers who were inspired by the Biblical beginnings of the Book of Genesis.
Image
One might not immediately associate Frank Stella (b. 1936), the American painter, sculptor, and printmaker noted for his work in the areas of minimalism and post-painterly abstraction, with a lyrical poem that concludes the traditional Passover meal.