Image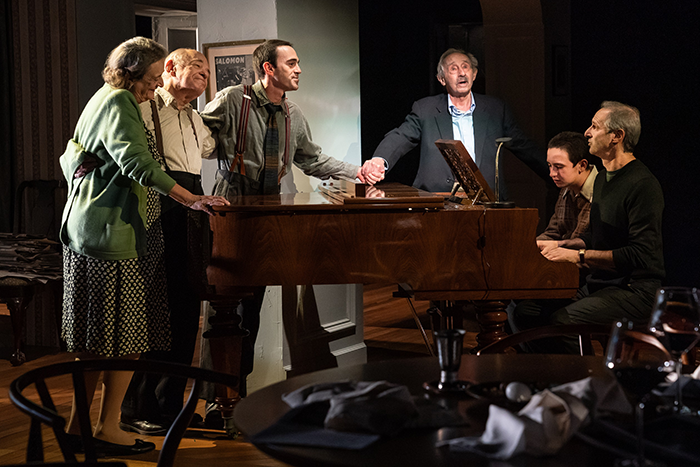 On the face of things, Prayer for the French Republic, a new play by Joshua Harmon, is about several generations of a French-Jewish family living in Paris and contemplating whether they're still safe in the country they call home. In actuality, it is a discomfiting examination of the state of the Jewish diaspora.
Set in 2016, we watch as Marcelle (Betsy Aidem, in a sharp, incisive performance), the matriarch of the Benhamou family, welcomes a distant American cousin, Molly (Molly Ranson), (who's studying abroad) to her Paris flat. The playwright lets us know early on that we are to believe that the characters are all speaking French, but the dialogue continues in the American vernacular. This choice avoids the need for supertitles, but there's a larger point. While the Benhamous eat croissants, drink wine, and display typical European attitudes, in just about every other way, they are very much like a Jewish family in New York or Los Angeles, or any cosmopolitan US city.
France has the third largest Jewish population in the world, behind the United States and Israel. But since 2012, French immigration to Israel has skyrocketed. This has coincided with a rise in antisemitism, not just in France, but everywhere. Though the play ostensibly concerns the "French Republic," Harmon is, at times, using the country as a tongue-in-cheek stand-in. The idea that the same predicament that the Benhamou family faces awaits us here in America is alluded to and toyed with throughout the evening.
When Marcelle's son, Daniel (Yair Ben-Dor), returns home from his teaching job, his face bloodied for daring to wear his yarmulke in public, existential dread envelopes the family. Daniel's father, Charles (Jeff Seymour), tries to brush the incident off, but Marcelle scolds her son for wearing his kippah in public and pleads with him to hide it under a baseball cap. This draws the ire of Daniel's acerbic, motor-mouthed sister, Elodie (Francis Benhamou), who calls out her mother for victim-shaming in one of several virtuoso displays of indignation.
Though the events and subject matter are dramatic, Harmon balances the proceedings with levity. There's plenty of humor to be drawn from the fact that the adult Benhamou children are still living at home, from Elodie's inability to clean up a wine glass to Daniel's habit of playing guitar, shirtless, on the couch. Once Molly and Daniel strike up a romance, the whole family takes jabs at the dating "kissing cousins."
The Benhamou family of 2016-2017 is juxtaposed with that of Marcelle's great-grandparents living in Paris during World War II. Takeshi Kata's rotating set allows the proceedings to quickly pivot back in time, as the Salomons (Kenneth Tigar and Nancy Robinette), an aging couple, take shelter in their apartment, waiting for news of their missing children. When their son and grandson do return after the war (Ari Brand, a barely contained bundle of nerves, and Peyton Lusk, all-resigned sorrow), they're desperate to know what happened to them. But it's clear from the pair's gaunt expressions and shaved heads exactly what's transpired.
As the Salomons grapple with the effects of not getting out of France in time, their descendants struggle to decide if the time to leave is now. After Daniel's beating, every act of antisemitism is reason for someone in the family to question their security on French soil.
At times it's as if Harmon is attempting to examine this particular moment in the world and how it affects the Jewish people from every imaginable angle. Elodie uses Molly as a sounding board to express her views on Israel (and allows Harmon to essentially do the same). It helps to draw an important distinction between Molly and Elodie. While Molly is at liberty to criticize Israel due to her perceived safety in the states, Elodie claims she can't afford to do the same. After all, she may be forced to make aliyah someday for her own protection.
Marcelle's brother, Patrick (Richard Topol), provides yet another angle. Directly addressing the audience, he explains how Jewish Europeans have a different relationship to antisemitism, having endured it for over a thousand years. After detailing a particularly gruesome pogrom, he wonders if he descends from the survivors of such a massacre and how they went on at all afterwards. Patrick's remedy for antisemitism is easy. He considers himself entirely secular. After all, if no one knows he's Jewish, then he must be safe. It's yet another side to the prism, another way of dealing with Jewishness, in this case, by concealing it.
Prayer for the French Republic is an ambitious, funny, touching, and ultimately an extremely gratifying experience. Over the course of three hours, we're given different answers to the existential question: to leave or not to leave. For some, the answer is forsaking their Jewishness altogether; for others, it is packing their bags when their gut tells them it's time to go; and for still others, it's staying no matter the cost. From generation to generation of diaspora Jews, the only constant is this question that never seems to go away.
At Manhattan Theatre Club at City Center through March 13th.
Related Posts
Image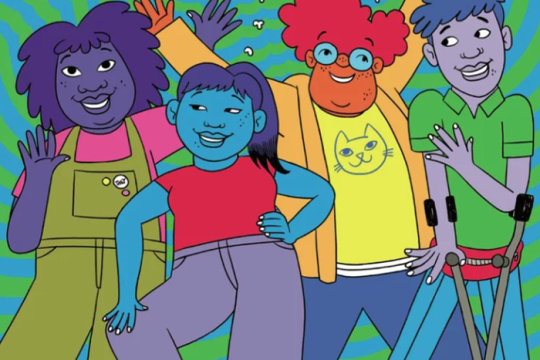 Cory Silverberg (they/them) is a sex educator, author, and social justice advocate who writes books for young people that center queer, trans, and nonbinary experiences and narratives in collaboration with the artist Fiona Smyth. Together they have published more than 12 books.
Image
Judaism's relationship with astrology is one that has many twists and turns. Jewish interest in the zodiac can be traced back to the time of the Babylonian exile, which is evidenced by the fact that many of the Hebrew names of the constellations are actually Hebraicized versions of the original Assyrian names.
Image
A camel carrying a load. A golden pair of balanced scales. An open heart and an open mind. These are three of more than two dozen artists' visions of justice and righteousness featured in the invitational exhibition, "Tzedek Boxes: Justice Shall You Pursue."