Image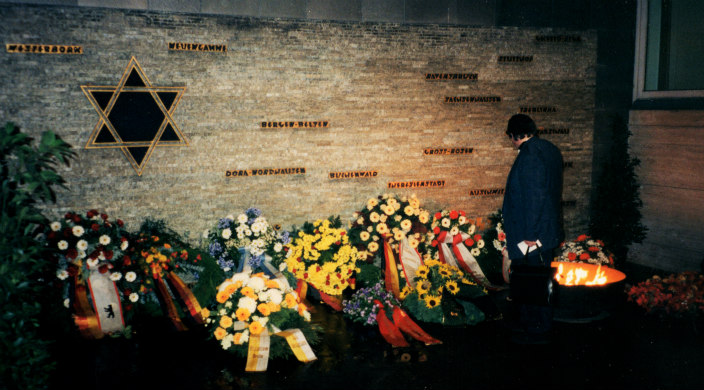 November 9, 1997, I arrived in Berlin, Germany just in time to experience the Kristallnacht memorial service with the Berlin Jewish Community. I had been invited to Berlin to participate in the Judische Kulturtage, the Berlin Jewish Cultural Festival, as the first female cantor to give a solo concert in the very city my Opa had escaped in 1938.
Kristallnacht, which literally means "the night of broken glass," occurred on the night of November 9, 1938; this date marked the beginning of the Holocaust. On Kristallnacht, Jewish homes, synagogues, and businesses were destroyed by the Nazis, and because of this violence, the streets in Germany and Nazi-occupied Europe were covered with smashed glass from all of the windows of Jewish synagogues, homes and businesses – hence the name "the night of broken glass."
The Kristallnacht ceremony in Berlin was held at the Judische Gemeindehaus (the Jewish Community House) in the very spot that was once the Fasanenstrasse Synagogue. In 1938, Joseph Goebbels ordered the destruction of the Fasanenstrasse Synagogue, considered the largest in Berlin. The Nazis smashed the interior, piling up the religious objects and setting the synagogue on fire.
Being in Germany for Kristallnacht was surreal. Here I was, a Jew in Germany whose family had escaped in 1938. That night was the first part of a long journey in which my family would finally be able to piece together some of what happened to my Opa's family and. in particular. what had happened to his mother, my great-grandmother, Settchen Levy Feist. (We learned from my research during this trip that my great-grandmother perished in Auschwitz after being held in Thereisenstadt.)
The memorial service held outside the Gemeindehaus was visually stunning and memorable. I was deeply moved to hear the sonorous bass-baritone voice of Oberkantor Estrongo Nachama – originally from Thessaloniki, Greece, and a survivor of Auschwitz – chant the Eyl Maleh Rachamim (the memorial prayer) as the enormous memorial outside the Gemeindehaus was lit up by the giant memorial candles that adorned the monument.
November 9, 1938, marked the end of normalcy in the Jewish community in Germany and Nazi-occupied Europe. Shabbat services went underground, and the beautiful music that once rang out in synagogues, like the magnificent OranienburgerStrasse Synagogue in Berlin, was silenced. Louis Lewandowski, the first musical director of the OranienburgerStrasse Synagogue, composed much of his music specifically for that magnificent space.
Lewandowski, who had also worked with Viennese Cantor Salomon Sulzer, shared Sulzer's music with his Berlin congregation, as well. Lewandowski and Sulzer's music lives on. To this day, we continue to sing many of these classic melodies during the High Holidays and each Shabbat. Most Jewish communities throughout the world, regardless of denomination, still utilize Sulzer's Shema and Lewandowski's Kiddush.
When we sing this music, we remember world Jewry before Hitler, a time when all seemed possible. Sulzer's Sh'ma and Lewandowski's Kiddush, especially, connect us back to this incredible golden chain of tradition with which we have been entrusted. It is important to honor and cherish our past as we also rise to meet the new traditions of our present and our future.
At Congregation Rodeph Sholom in New York City, where I serve as cantor, we most often commemorate Kristallnacht with the magnificent music of Sulzer, Lewandowski, and other composers that inspire and harken us back to the beginning of Reform Judaism in Berlin and Europe. For these occasions, we engage a larger choir and utilize the organ to accompany us cantors. Each and every year, we always include a special memorial candle lighting on the Shabbat closest to Kristallnacht, with a seven-branched menorah that was specially designed by our congregant Irwin Feld, in memory of his father, Hazzan Steven Feld, a survivor. The 6 branches represent the six million with the seventh candle being one of hope for the future generations.
Our senior rabbi, Rabbi Robert N. Levine, often reminds us that Hitler wanted to create a museum filled with artifacts from the Jewish people. With this museum, Hitler wanted to declare, "Here once lived a people." With our musical remembrances, we demonstrate that the Jewish people have not only survived, but with God's help, together we will continue to go from strength to strength.
Planning a Kristallnacht service? Here are some musical resources to help you plan a Kristallnacht memorial:
Related Posts
Image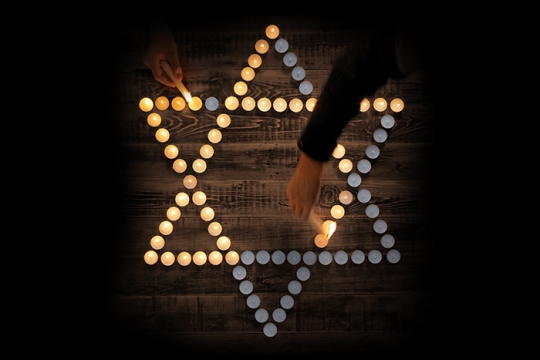 What does it mean to remember? It is to live in more than one world, to prevent the past from fading, and to call upon the future to illuminate it.
Image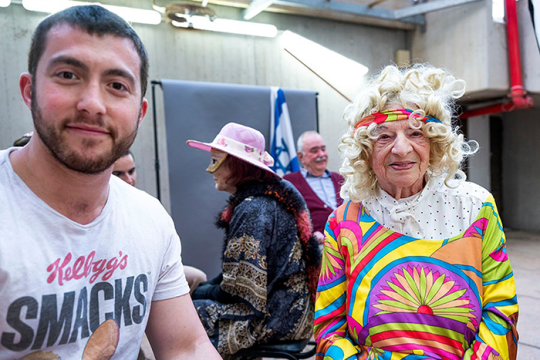 Yom HaShoah is also known as Holocaust Remembrance Day and occurs on the 27 th of the month of Nisan. It is a day to commemorate those who perished during the Holocaust and listen to survivors tell their stories. However, as the survivor population ages, many are needing more assistance.
Image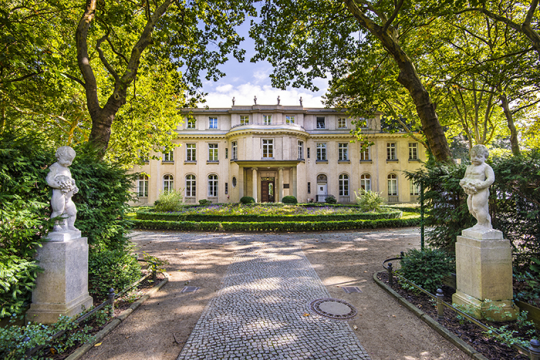 Eighty years ago on January 20, 1942, the infamous Wannsee Conference took place in a large lakeside three-story mansion in suburban Berlin. Fifteen Nazi German leaders attended the meeting that coordinated plans to "orderly execute" ---murder--- millions of Jews during World War II.