Image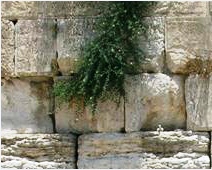 Rabbi Oren Hayon teaches: "Reading Deuteronomy is a very different experience from reading the rest of Torah. Here, the omniscient narrator of the earlier books has vanished, replaced abruptly by Moses's subjective voice. Deuteronomy, as its Greek name indicates, is a second telling: Moses's own reiteration of earlier events. In this book, we experience the Jewish past only through Moses's narrow perspective, which frustrates and disorients us at times. And yet it is this particular characteristic of Deuteronomy that makes it deeply relevant and meaningful for the formation of spirituality in a postbiblical diaspora."
Rabbi Hayon reminds us that Moses narrates the Book of Deuteronomy. Here at the end of the forty years in the wilderness, just before his own death, Moses gives his "own reiteration of earlier events." Also important is that in Deuteronomy, Moses speaks not to the generation that came with him out of Egypt but to the children of those people (and to us). If you've ever eagerly (or sleepily) listened to your grandparents reminisce about their lives, you get the picture.
Near the beginning of the book, Moses recalls a heartbreaking question he asked much earlier in the wilderness journey: Eichah esa l'vadi tarchachem umasa-achem v'riv'chem! "How can I bear unaided the trouble of you, and the burden, and the bickering!" (Deuteronomy 1:12, recalling Numbers 11:14).
Eichah—how—is also spoken by Isaiah in this week's haftarah for Shabbat Chazon, the Shabbat of Vision, which precedes the fast day of Tishah B'Av. He says, Eichah haitah l'zonah! "How the faithful city played the whore!" and continues, "Once [she was] so full of justice; righteousness dwelt there; and now—murderers!" (Isaiah 1:21).
The Hebrew title of the Book of Lamentations, the book we read on Tishah B'Av, is Eichah, because it begins with the words, Eichah yashvah vadad ha-ir rabati am. "How alone sits the city that was so full of people" (Lamentations 1:1).
What left Moses feeling alone in the beginning of his last soliloquy (that is, the whole Book of Deuteronomy) was the same as what left so many to die in the wilderness (a punishment given in Numbers14:20–24, reviewed in Parashat D'varim 1:35–39, and remembered on Tishah B'Av). It was also what corrupted the city of Jerusalem in the Book of Isaiah and left it sitting alone in the Book of Eichah Moses (for example, in Numbers 20:2–13) and the Israelites and the people of Jerusalem felt they were alone when they were not, they doubted when they might have had faith, they let fear rule their actions. They turned from God and one another when they might have turned toward God and each other. Perhaps on this Shabbat Chazon, as we begin again to listen to Moses tell his story, we'll use his "words" (d'varim) about the past to help us "envision" (chazon) a better future.
Rabbi Lisa Edwards is a rabbi at Beth Chayim Chadashim (BCC) in Los Angeles, California. BCC is the world's original lesbian, gay, bisexual, and transgender synagogue, welcoming the whole mishpachah (family) since 1972.
Originally posted at Ten Minutes of Torah
Related Posts
Image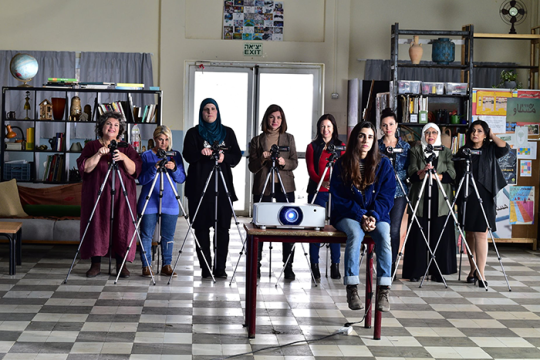 Both Arab and Jewish, young and old, the women of "Cinema Sabaya" learn about much more than filmmaking during the class; they discover that their differences are far outweighed by their bonds as women making their way in a patriarchal world.
Image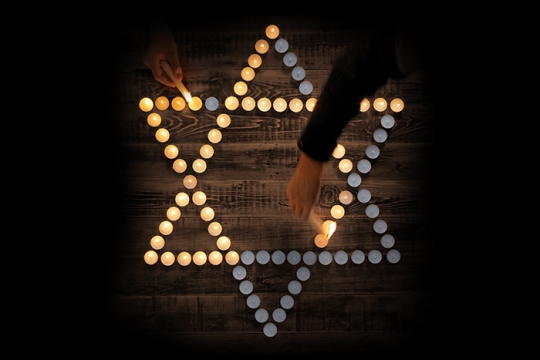 What does it mean to remember? It is to live in more than one world, to prevent the past from fading, and to call upon the future to illuminate it.
Image
A camel carrying a load. A golden pair of balanced scales. An open heart and an open mind. These are three of more than two dozen artists' visions of justice and righteousness featured in the invitational exhibition, "Tzedek Boxes: Justice Shall You Pursue."