Image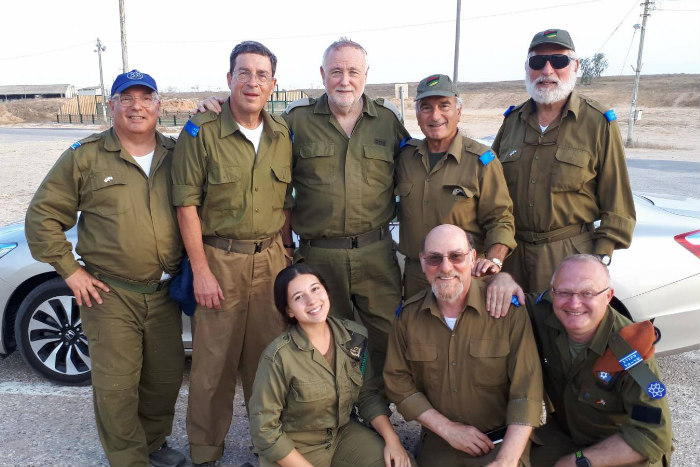 Mark Werner is a retired attorney in Raleigh, N.C., who for the past 18 years has devoted two or three weeks every summer to volunteering on Israeli military bases through Volunteers For Israel, the U.S. partner of Israeli organization Sar-el. He is currently president of Volunteers for Israel and is the author of two books about his experiences: Army Fatigues: Joining Israel's Army of International Volunteers (Devora, 2008) and his latest work, A Passion for Israel: Adventures of a Sar-el Volunteer (Gefen, 2020).
Werner grew up among Holocaust survivors on a chicken farm in Vineland, N.J., a Jewish agricultural community funded by the German philanthropist Baron de Hirsch in the 1880s. He edited Fighting Back: A Memoir of Jewish Resistance in World War II, written by his father, who was a member of a Jewish partisan unit fighting the Nazis in the forests of eastern Poland. We caught up with Mark Werner to talk about volunteering in Israel.
ReformJudaism.org: Your wife has joked that volunteering on Israeli military bases is the equivalent of summer camp for grown-ups, while also acknowledging that it is serious business. How serious?
Mark Werner: People's lives are at stake. When you pack medical supplies or combat gear, you better get it right. When soldiers rush into an armored personnel carrier and go off to battle, they don't have time to check if the ammunition, helmets, water canteens, and other gear the volunteers packed in it are in place. If we get it wrong, someone could die.
What benefits do the volunteers contribute to the Israel Defense Forces?
We free up soldiers for more serious duties and reduce the need to call up reservists. Perhaps even more important, it is a real morale booster for soldiers to see some 4,000 pro-Israel people from all over the globe annually coming to help.
How many have come so far and from what countries?
We've had roughly 150,000 to 160,000 volunteers to date. Most have come from the U.S. and France, but a significant number have volunteered from places around the globe, including Norway, Finland, Hungary, Romania, Russia, Central Asia, Australia, UK, South Africa, Mexico, Argentina and Columbia.

What was one of your most rewarding experiences?

Meeting Israeli soldiers from so many backgrounds, including members of the Druze community and the sons and daughters of Jewish immigrants from Ethiopia and Russia, has given me a deeper appreciation of the diversity of Israel's population.
One of my most rewarding assignments was contributing to Israel's Operation Good Neighbor. We packed medical supplies for a field hospital that Israel had opened on the Syrian border to treat victims of the Assad government's indiscriminate bombing of its own people. We saved many lives.

What is the demographic makeup of Sar-El volunteers?
Men and women are evenly divided, and almost half are over the age of 65. We have a program specifically designed for college students, which heavily subsidizes their airfare.
We also have an arrangement with Birthright Israel for young people to extend their Birthright trip to volunteer on an IDF base. These young people especially enjoy this experience because they work side-by-side with same-aged Israeli soldiers and discover how much they have in common.
Why do people sign up for this program?
Most have a desire to strengthen the Jewish homeland; some Christians volunteer as a way of making amends for the historical mistreatment of Jews. On a more practical level, volunteering is an inexpensive way to experience Israel close up. All you have to pay for is your flight and weekend arrangements; the army provides you with room and board during the work week.

What are the volunteer accommodations like on the bases?
Spartan. You live in the barracks with the soldiers and can be crowded in a room with four, eight, or 10 people; you sleep on a cot, eat in a kosher mess hall, and walk to the washroom. This is not for people who like to vacation in five-star hotels.
How does one apply to become a volunteer?
There's an application and vetting process that includes an examination by your personal doctor to certify that you're able to walk a mile on uneven surfaces, can lift at least 20 lbs., and are well-suited psychologically. That's followed by an interview to determine if you are a good match for the program.

What was it like volunteering with your son David?
I had spent most of my career working for large multinational corporations that required a lot of traveling, so I was often away from my kids. Volunteering with my son brought us the kind of closeness we had missed out on earlier in my career. David liked the experience so much that he volunteered with me five times. It was a tremendous bonding experience.
David and I often share memories about the people we met and the obstacles we overcame, and I've seen other volunteers seeking to create similar bonding opportunities – mothers and fathers with their children, aunts and uncles with their nieces and nephews, and even grandparents with their grandchildren. It's a great way to create lifelong memories with family members.
Do you plan to keep volunteering annually?
Yes, as long as I am physically able.
Learn more about Volunteers for Israel, including how to get involved.
Related Posts
Image
On Tu Bishvat we celebrated trees and a season of new growth. I've been doing lots of thinking about trees, as I frequently do, and the role they play in providing oxygen for the planet. At the Union of Reform Judaism, we provide oxygen to our communities by creating compassionate spaces for our participants to grow and thrive. We can respond to current and future challenges by fostering resilience that reflect our Jewish values.
Image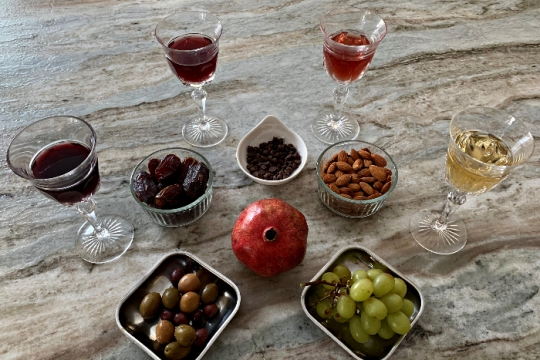 As I thought about what would be involved if we did our own Tu BiShvat seder, it seemed interesting and fun. Tasting lots of fruits? Marking a time to appreciate, mindfully and respectfully, trees and the earth? Drinking wines and grape juices? Yes, please.
Image
New Year's Day and the traditional resolutions that accompany it invite us to take stock of our lives. Are we living our lives to the fullest? Can we imagine a future in which the commitments we make for ourselves (e.g., healthier habits around eating and exercise) actually come true? What will it take this year to really change?